Krakow is one of the most popular cities in Europe. People from each part of the world visit the city every day and many spend only weekend in Krakow. Are you one of them? If yes, here, you'll find some tips what to do during your short Krakow breaks. Some prefer to spend their weekend in Poland just to see best monuments, some just for fun. No matter in which group are you, one thing is sure – you won't be bored!
---
Weekend in Krakow – see best landmarks
To be honest, it's impossible to visit all attractive places during one weekend in Krakow. However, at lest you can see the most significant ones.
Let's Start our plan for Krakow breaks from Krakow Old Town. Beside discovering the Main Square, which is a monument in itself, make sure to visit incredible Wawel Castle. There is no more characteristic building in the city than this castle placed on the Wawel hill. In fact, for many its the starting point for a weekend in Krakow.
Another district worth to see is Kazimierz. Old Jewish district will amaze you with its beautiful synagogues and transparent Jewish culture on its streets. It's also an area, where one can find numerous cafes and finest restaurant with Jewish live music. Additionally, Kazimierz is famous for its urban street art and art souvenirs shops, one of its kind.
Don't miss a chance to visit Podgorze district as well. This historical quarter features a beautiful Bednarski Park, Krakus Mound and famous Schindler's Factory. It's one of the most popular Krakow museums, visited by thousands of tourists everyday.
If you still have time left during your weekend in Krakow, check Nowa Huta district as well. This area, designed as an Utopian socialist city, has very unconventional structure of streets and squares. Additionally, it's full of green spaces and climatic restaurants that dates back to communism period in Poland.
---
Weekend in Krakow with Kids
Spending your Krakow breaks with kids? Here's what you can do in the city to keep every member of your family satisfied:
It's probably the most popular leisure centre for families in Krakow and the biggest water attraction of its kind in the whole Europe.  It gives a chance not only to relax in saunas but also to have a lot of fun on huge watersides. One thing is sure – your kids gonna love that! At the same time it offers swimming lessons by professionals. Also, it has several restaurants and cafes where you can calmly wait for your kids to finish their water craze.
Would you like to see Krakow built from LEGO? It's possible in an amazing museum in the centre of Krakow – Historyland. It's main goal is to show history of Krakow in an extraordinary way – through LEGO constructions. Additionally, it offers interactive exhibitions that won't let your kid to get bored! It's located in the old building of Krakow Train Station.
Opened in 2010, it is one of the most educative Krakow museums. It's collection contains over 200 aircraft displayed in contemporary and temporary exhibitions. Museum is famous for its numerous events and lesson organized for different age groups. Additionally, there are various lesson for children, interesting lectures or even a cinema. The museum is hidden in a scenic Polish Aviators' Park.
Wawel Dragon is a statue of the most popular Krakow citizen. A majestic figure of Wawel dragon stands proudly at the foothills of Krakow castle. It's probably the most photographed object in the city and is always surrounded by kids. Weekend in Krakow with kids without seeing Wawel dragon is simply unthinkable. Additionally, you can step into Dragon's den – a place where the legendary beast resided.
Living Museum of Obwarzanek
This amazing museum will let you learn the history and traditional recipe of the most popular Krakow snack. Beside showing you interesting story of its origins, you can see how it is being made by professionals. What's more, you will have a chance to do it by yourself, which is an amazing attraction especially for kids. So, instead of buying 1000 obwarzanek for your family, learn how to bake it! Have you already tried all flavors?
 Stanislaw Lem Scince Garden
It's 6 h of extraordinary and experimental machines and tools. Together with your kids, you can go on an exciting journey through Science. Garden consists of machines presenting physical phenomenons, geological and sensational exhibitions. Additionally, you can check your sense of direction by stepping into Green Labyrinth. It's definitely good place for educational and fun Krakow breaks. However, keep in mind that you might experience some difficulties in taking you kids back home!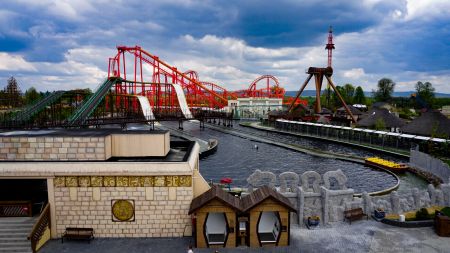 This is an absolute hit among Krakow best surroundings to visit. Located around 50 km from the city, the biggest Amusement Park in Poland will provide amazing journey for your kids! It owes its incredible success to its unique, extreme machines, one of its kind in Europe with.  It's also A perfect place for toddlers,  with whom you can go to the Kids Zone and have fun for the whole day. Tours from Krakow to Energynlandia are available between April and November – book it now!
---
Krakow breaks – best clubs

How about  having a little party? Weekend in Krakow can be really wild! In fact, many people come to the city just to have fun and dance or go pub crawling in Krakow numerous clubs. If you're one of them, check where are best places in Krakow to go for a pure fun.
Shine Club (Starowislna 16)
Pod Jaszcurami Club (Main Square 8)
Teatro Club (Jgiellonska 10)
B4 (Bracka 4)
Spolem Deluxe (Florianska 53)
Addiotionaly, Krakow breaks can be also a chance to go to the finest music club. City is famous for having many talented jaz musicians playing in different clubs. Don't miss a chance to visit Harris Jazz Piano Bar, Pod Baranami Club, U muniaka or PiecArt.
However, if you prefer sit and try best Polish beers, no problem! You'll find plenty of climatic pubs and bars with finest drinks including best beers and vodkas. Check all best fun things to do in Krakow.
---
Weekend in Krakow – best parks and green spaces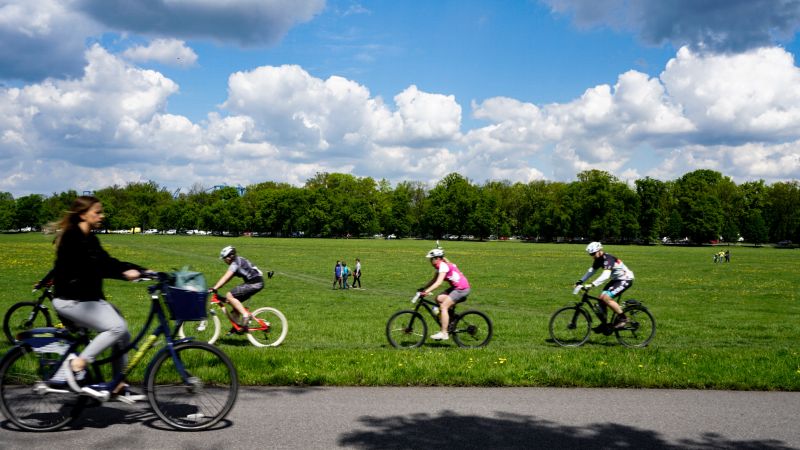 48 ha of a broad meadow "closed" in a quadrangle between different quarters of Krakow. It's one of the largest meadows inside a city center in the whole Europe! It's also a place of numerous events including concerts, competitions, festivals, picnics or workshops. One of the biggest event were probably World Youth Day in 2016. It gathered in Błonia over 600 000 participants! This picturesque area offers numerous paths for cyclists and walkers with push chairs, sticks or dogs – perfect place for a weekend in Krakow.
Bednarski Park is the most important parkland in Krakow history. Also, it's regarded as one of the prettiest parks for Krakow city breaks. Additionally, the Park is full of its little red residents – squirrels! Most of them are domesticated and willingly grab snacks straight from your hands!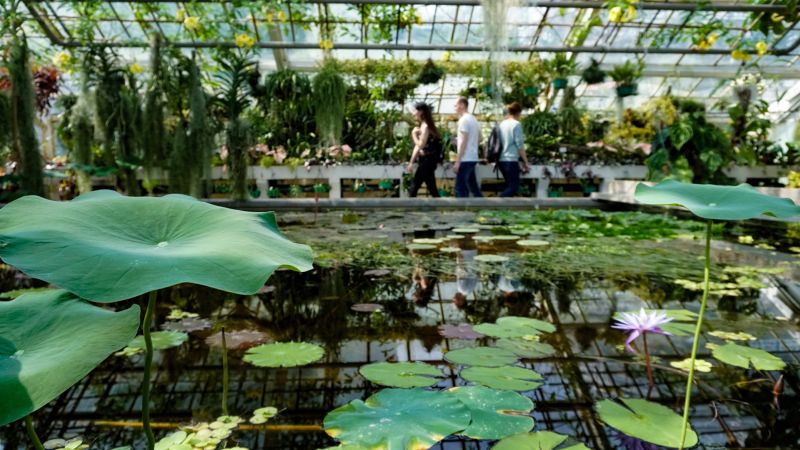 Do you like flowers and trees? Go to Botanical Garden during your weekend in Krakow! It's the oldest Botanical Garden in Poland. There are around 5000 species. It includes tropical plants, ornamental, aquatic and medicinal plants. Beside that, 10 ha of this picturesque area offers numerous footpaths and branches. One of the biggest attraction of UJ Botanical Garden is a palm house as well as an orchid house. 
This amazing spot is probably number one among places to relax during Krakow breaks. It's a lagoon inside the city! People go there for many reasons. Crowds lay on the sun and simply enjoy the spectacular view, have a barbecue, take photos or even swim in this beautiful bay. Zakrzowek is definitely one of the finest spots for relaxing during Krakow breaks.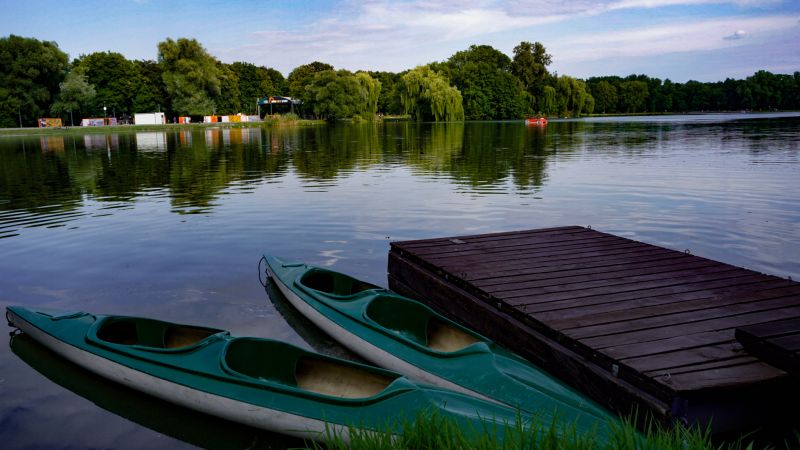 Nowa Huta is a Krakow district that is completely different from other parts of the city. It had been designed as a socialistic Utopian place for smelter workers. All streets and square are in a perfect order, set square. Additionally, it features a lot of green spaces including Nowa Huta Lagoon. If you are during weekend in Krakow you should definitely visit the place. It's a broad lake, where you can swim, have a ride on water car or even go fishing!
This is probably the most common green space in Krakow. It'a a green belt surrounding main square so it's impossible not to cross it at some point. Even if you are only for weekend in Krakow, you'll happen to be there for sure.
KRAKUS MOUND
It's 16 meters-high (271 m.a.s.l) and is probably the oldest Krakow mound. Despite a profound research, the actual age of this tumults remains a mystery. It is supposed to be Krak's tomb created by his sons. Krakus Mound is also a place of traditional celebration of Rękawka – an old Polish Easter tradition. Crowds of Cracovians gather on Krakus mound and celebrate spring awakening together.
KOSCIUSZKO MOUND
It's 35 meters-high (330 m.a.s.l.) and is the closest mound to the main square.It attracts thousands of visitors everyday with amazing view from its peak. One can see breathtaking panorama of Krakow including Blonia, two stadium Halls and other Mounds. What's more, if the weather is good enough, Tatra Mountains
PILSUDSKI MOUND
Having 35 meters, it's the biggest mound in Krakow as well as in the whole country.It is surrounded by a picturesque landscape, that is extremely green during the summer. Proximity of Wolski Forest and  Krakow ZOO makes the area perfect for long walks or bike rides during Krakow breaks.
WANDA MOUND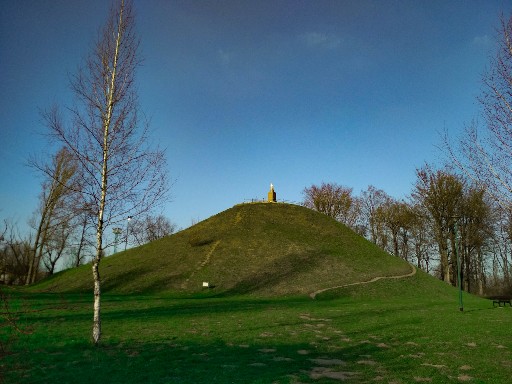 Its history dates back as far as to VII – VIII th century. According to a legend, it's a resting place of princess Wanda. She was supposed to marry a German prince but rejected the proposition. That's why she committed a suicide and her body was found in Vistula river.
---
---
Delicious weekend in Krakow
Spending your weekend in Krakow can be an amazing culinary experience. City offers an array of international cuisines, from American burgers, through finest Italian pizzas to specialties from Asian cooking.
You'll find unique vegetarian and vegan restaurants and bars as well as finest steakhouses in Krakow.
However, the city can be proud of serving a variety of traditional Polish food as well. You don't need to look far to find good pierogi in Krakow – they are served literally everywhere.
Krakow is also famous for unique street food that serves Zapiekaniki, Krakow kumpir, Obwarzanek and numerous snacks from around the world. There are several "food squares" in the city: Okrąglak (Nowy Sqaure), Izaak and Judah Squares, Bezogrodek and number of food trucks across the city. Help yourself!
City also cares about those who have the biggest appetite after dark. Numerous places with different delicacies in Kazimierz district attract hundreds of guts during each warm weekend in Krakow.
---
How many days do you need in Krakow?
Many people wonder is one weekend in Krakow enough. To be honest – it's never enough! However, if you know what to see in Krakow and don't waste your time in hotel, you can get really satisfied. In fact. there are so many things to do in the city that 48 hours seem to be a short moment. That's why it's much better to prepare your Krakow trip plan before your arrival.
Fortunately, Krakow is not a huge city and the public transport is in very good condition, so you don't need to spent most of your time in trams and buses. If the weather is good, a bike is enough to explore the whole city.
---
Best trips for Krakow Breaks
We recommend to check what's in Krakow surroundings as well. Southern Poland is full of interesting places, that you need to see at least once in your lifetime. Places like Auschwitz or Wieliczka attracts millions of visitors every year, join then today!
1. Krakow Walking Tours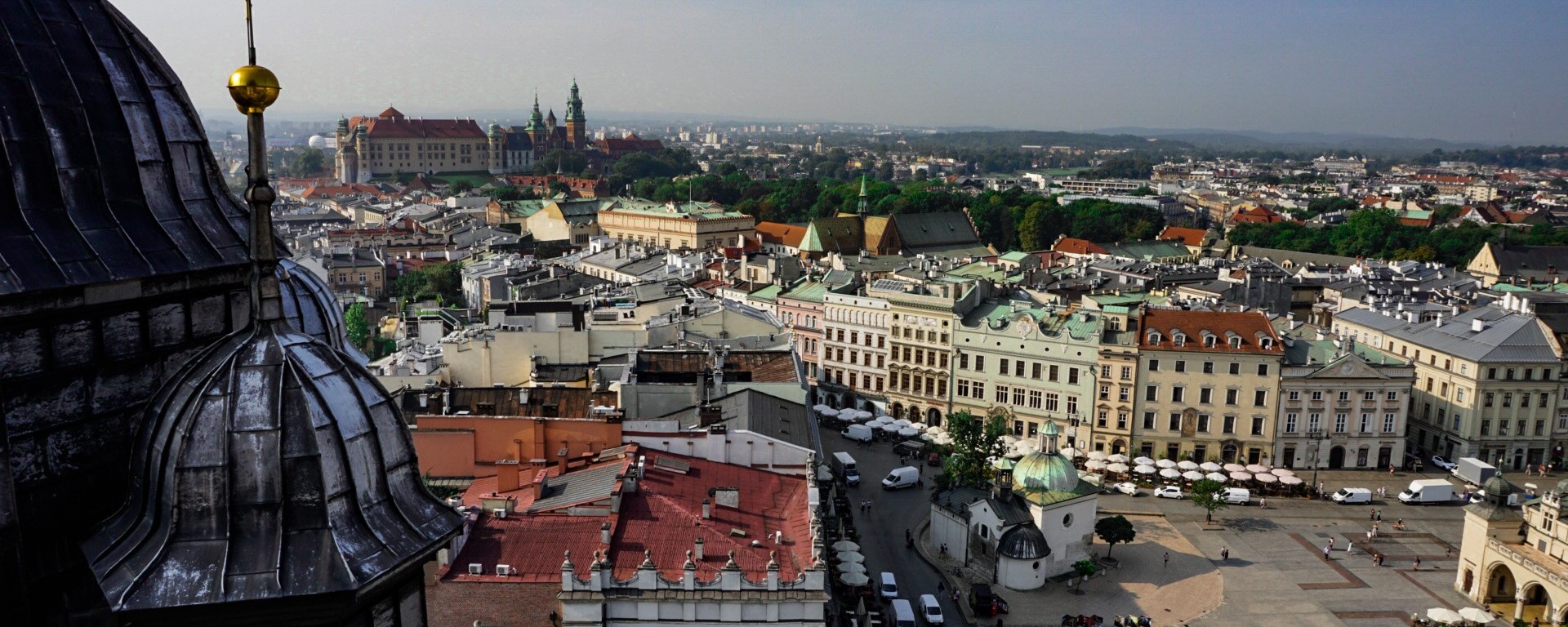 There is no better way to discover beautiful Krakow streets than booking Krakow walking tour. A professional guide will show you most important places in the city and tell you many quirky facts about city's customs. You'll walk for 4 hours discovering all interesting corners and spots. Your Krakow guide will be more than happy to answer any of your questions. He can also show you best places in Krakow to try traditional Polish cuisine.
2. Auschwitz Tours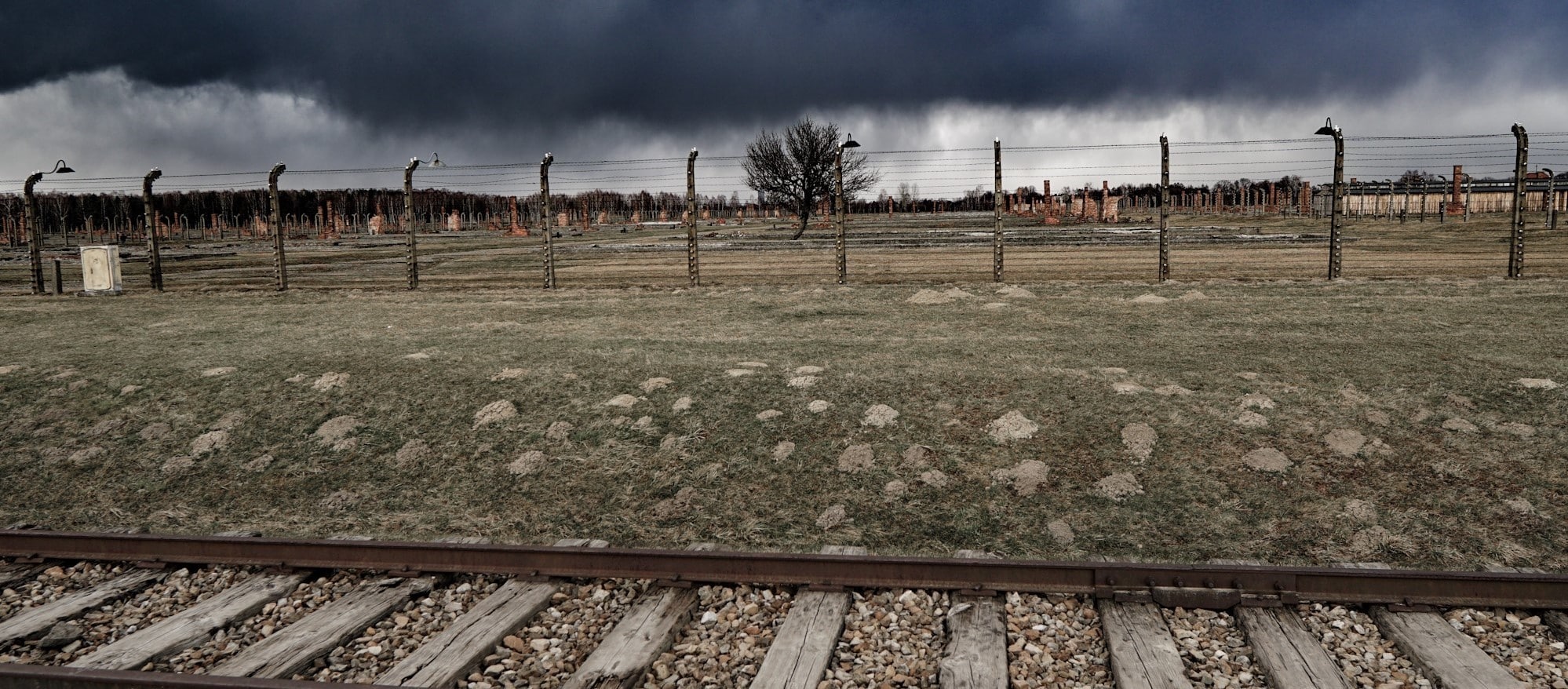 It's definitely most popular trip from Krakow, something you cannot miss. People from around the world spend their weekend in Krakow just to go to this historical place. Auschwitz Birkenau Museum and Memorial is a former Nazi concentration camp, marked by the dreadful history of Holocaust. There are different options of the tour:
Standard Auschwitz tour (7 h)
Check here what will you see during your Auschwitz Krakow tour.
3. Wieliczka Salt Mine Tours
Discover an amazing world made of Salt in Wieliczka Salt Mine – XIII century-monument. A visit in Salt Mine in Wieliczka is an unique experience for everybody and great idea for your Krakow weekend. Located around 20 km from Krakow, it is a place where millions of tourists every year. You will discover beautiful chambers located over 100 m underground.
During our organized tour from Krakow to Wieliczka you can discover this special place. A local guide will lead you through mine's depths and explain you its amazing history. The tour lasts for 7 hours and includes hotel pick up, drop off and English speaking driver's assistance. Undoubtedly, it's a great place for Krakow breaks.
4. Zakopane Tours

Zakopane , the winter capital of Poland, best fits those who would like to spend an active weekend in Krakow. This charming city is the most attractive area for winter sports lovers. Beside offering amazing mountain routes and valleys, one can go skiing, skating or tobogganing in Zakopane. The city lays in beautiful Tatra Mountains featuring famous places such as Gubalowka, Giewont or 5 Ponds Valley. No matter during what time of the year you visit Zakopane – you'll be delighted!
Organized tours from Krakow to Zakopane take around 7 hours. Our English-speaking driver will take you to Zakopane centre or to any given destination. Upon your request he can be your guide and familiarize you with city's landmarks.