The Auschwitz tour from Krakow is number one among all Poland tours. People from around the world come to the city just to go on this amazing journey. Check what you will see during the Auschwitz Krakow tours.
What will you see during Auschwitz Krakow tour?
Although it's hard to describe things that you'll see in the camp, it's good to have an idea what to expect. Auschwitz Krakow tours are highly popular but many visitors are not aware of its features. Check what includes each Auschwitz tour from Krakow.
Tours everywhere
Once you get off  in Auschwitz, you can be quite overwhelmed by the number of people there. It seems as groups of visitors simply overflow the area. There will be not only Auschwitz Krakow tours, but also from the entire world. However, after a while, you'll see that this flow goes really smoothly. Despite so many tourists, guides, interpreters and drivers in front of the Museum, everything is well organized.  Museum workers are real professionals handling hundreds of Auschwitz Krakow tours at once. They got used to ti long time ago. The most important thing is to stay with you group and guide and not get lost!
Going on Auschwitz tour from Krakow, you'll see 2 main parts of former Nazi concentration camp.
You'll get a pass, headset and radio and will begin tour journey. First important object to see will be Auschwitz gate with infamous sign "Arbeit macht frei". Its probably the most recognizable spot in the museum and  many people travel really long way just to see this.
Barbered wire

Walking down the gloomy alleys of Auschwitz camp, you'll see barbed wire and numerous concrete posts along the way. In fact, there is as much as 13 km of fence connected with 3 6000 equally spaced pots.
Disturbing Auschwitz photos
In Auschwitz I, you'll enter several blocks – those for prisoners as well as for Nazi officers. Exhibitions inside those blocks features many photographs, some of them being highly disturbing and terrifying. Auschwitz photos collection includes numerous portraits of prisoners whose faces usually express immense suffering or fear. There are many photos of seek, disabled or tortured inmates. Additionally, pictures of mass extermination,  medical experiments and dead bodies are displayed for visitors.
Block no. 11 and the Death Wall
During Holocaust Memorial Day, people commemorate victims in front of "Death Wall" in Auschwitz.
Block 11 in Auschwitz I is a horrifying place, where cruel punishments were taking place. Punished prisoners had to stay in 'dark rooms' with no beds, even for few weeks. That was also a place for those sentenced to starvation. Outside the block, you'll see the Death Wall. It's a spot, where Nazis were killing convicts by head shots.
Famous gate to Auschwitz Birkenau
It's another characteristic object in Auschwitz. Original gate leading to the death camp in Birkenau is a silent witness of injustice and inhumanity.
Prisoners barracks in Auschwitz Birkenau
You'll see long rows of wooden barracks where prisoners were sleeping. Considering terrible conditions such as stench, dirt, cold and confined space, prisoners were struggling for their life everyday.
Gas chambers and crematoria

Be also prepared that you'll see ruins of numerous gas chambers and crematoria. They are only ruins, as Germans tried to destroy any evidence of their atrocity. However, those remains are equally terrifying as if they were pristine. It is estimated that over 1 million people died inside those "machines of death".
Auschwitz tour from Krakow – at least once
There are some places in this world that every human should see. Auschwitz Birkenau museum is definitely one of them. This extremely important place in Southern Poland attracts millions each year and the number of visitors still grows.
Why Auschwitz tour from Krakow is something that you simply have to experience? First of all, it's probably the most important museum of the Holocaust in the world. Secondly, it's an incredible experience which can change your point of view about some things. In fact, many people travelling from Krakow to Auschwitz admit that the tour had an immense impact on their life. Everyone can discover something else, it all depends on your personal experience.
Krakow to Auschwitz tours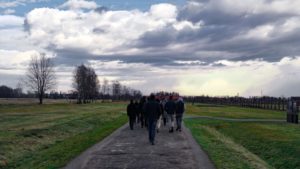 The most common  starting point for Auschwitz tours is Krakow. It's a city located around 70 km away from the museum and it takes only about 1 hour 15 min to get there (more information in the article Where is Auschwitz). That's why Auschwitz tours from Krakow are so popular.
Additionally, Krakow is a great tourist attraction itself. Many people decide to go on tour from Krakow to Auschwitz as they want to visit both places. It's definitely worth to see Krakow, where you can find plenty of monuments and amazing places to see.
The most convenient way to travel from Krakow to Auschwitz is to book a private tour. Service on such tour includes hotel pick-up and drop-off, English speaking driver's assistance and no need for standing in a long line.