Best traditional Polish Food to try
---
Discover exquisite Polish cuisine!
There are numerous reasons to visit Krakow. On the one hand, it offers plenty of amazing historical monuments and high-class museums. On the other, it's a place where you can have fun and party all night. Yet, there is one thing that EVERYONE would like to visit Krakow for. It's the traditional Polish cuisine that attracts the whole world! You can find delicious and unique traditional Polish food in most of Krakow restaurants. In fact, you can spend your whole stay in the city discovering it's amazing tastes! So, have you already tried all best Polish dishes and Polish soup?
---
Absolutely everybody must try  dumplings during their visit in Krakow. The question is – what taste will you choose? Those with cheese and potatoes, buckwheat groats, cabbage and mushrooms, meat or spinach topped with butter? How about Polish dumplings with strawberries or blueberries with sweet cream? Fine pastry filled with various stuffing it's served in every restaurant in Krakow.
It's another representative among best Polish food with an old tradition. It literally means "pigeons" but it has nothing to do with the birds. Golabki consists of cooked white cabbage leafs wrapped around various fillings. The most popular ones in Polish cuisine are those with mincemeat and rice or groat. They are often mixed with onion, garlic or mushrooms and topped with home-made tomato sauce. You'll find golabki in best Krakow restaurants as well as in simple milk bars.
This perfect mix of different flavors is in fact very easy to make! Polish bigos is anything but cabbage with different types of meats, mushrooms and onion. Various seasoning including pepper, caraway seeds and allspice add an ultimate taste to this special meal. What's more, bigos gets even more tasty if you reheat it several times. It's one of the most popular Polish dishes for sure and you cannot miss the opportunity to try it in Krakow.
Golonka is one of the Polish dishes dedicated for those with a hearty appetite. It's a fare chunk of pork leg boiled in a water with various seasoning and vegetables. It's traditionally served with sauerkraut, horseradish and baked potatoes. However, there are slightly different versions of golonka in different parts of Poland. For example, in the area of Beskid Śląski, golonka is traditionally stewed in beer. So, are you ready to get to grips with a portion of this filling traditional Polish food?
"Kopytka" literally means "little hooves" due to their characteristic shapes. This traditional Polish food is a combination of potatoes, flour, eggs and salt, kneaded, cut and boiled. Their exquisite taste goes perfectly with butter or mushroom topping. You can eat kopytka as an separate meal or as a side dish for different meats or a stew. You should easily find kopytka in every milk bar or restaurant in Krakow, especailly those with traditional Polish food.
It's another position among traditional Polish dishes, that could seem a little bit… strange. Nevertheless, it's absolutely delicious! Poultry, fish or vegetables, served in a specific form of jelly is very popular meal in Polish cuisine. It's an obligatory snack during every traditional wedding or family gathering. Some may be unconvinced of galaretka, especially because of its jelly-like consistence. However, its taste completely makes up for its appearance!
This delicious Polish soup it's a favorite in Polish cuisine as everybody loves żurek! It's made of sour rye flour with an addition of Polish kielbasa, eggs and some vegetables. There is one principle if it's about components inside your żurek – the more, the better. You'll find this Polish soup in the every Krakow restaurants and milk bar. What's more, you should definitely try Żurek in very specific bowl. It's entirely made of bread so you can eat it as well!
This amazing Polish soup will warm you up and will simply make you feel good.
Chicken broth is definitely in the first flight of Polish cuisine and you can find in every restaurant in Krakow. A proper preparation of rosół is quite time-consuming as you need to boil a meat (usually poultry) with soup greens for a long time. However, it's definitely worth to wait! If you're patient enough, you'll get an amazing and relish Polish soup ever. It is usually served with carrots, parsley or celery.
It's one of the most specific Polish soup. It has both supporters and opponents, as is very atypical meal. That's why it's one of the most recognizable Polish soup. Flaki is also a part and parcel of Polish traditional weddings and family gatherings. It's made with cleaned strips of beet trips and topped with spicy seasoning. Probably not everybody will decide to try flaki but one thing is sure – its taste is ultimate.
This colorful Polish soup with beetroot is an obligatory dish (and the first one) during Christmas period. In fact, no borsht – no real Christmas dinner! It's traditionally served with uszka which literally means "little ears" due to their specific shapes. Stuffed with cabbage and mushrooms, uszka perfectly compound with a sour taste of Borscht. According to Polish traditions, you should put a little coin inside one of them. If you find the coin during Christmas dinner in your uszko – soon you'll be rich!
Be aware, that this absolutely delicious, sweet and crunchy pastry can be really addictive. Faworki are formed into a shapes of bows, deep fried and sprinkled with caster sugar. According to Polish traditions, people eat faworki during a carnival season and Fat Thursday (the last Thursday before Lent). However, it's possible to get angel wings  in some bakeries or supermarkets throughout the whole year. The only minus of faworki is that they disappear from a plate immediately…
It's hard to say what's the best part of Polish doughnuts. Whether its perfect, fine yeast dough, its sweet, running filling or its incredible smell. There are plenty of different tastes of pączek that you can buy in Krakow: caramel, chocolate, liqueur, pudding, quark and many more. However, the traditional Polish pączek is filled with rose marmalade and sprinkled with caster sugar. If you visit Krakow on Fat Thursday, you'll see millions of doughnuts in every shop and a  real doughnut madness among the citizens. Nevertheless, if it's not the Fat Thursday,  you can always prepare for it by facing the challenge. So, how many pączek can you eat one day?
Makowiec (poppy seed cake)
It's a traditional cake, usually served during Christmas and Easter period. Preparing home-made poppy-seed pulp is time-consuming, as you need to grind it several times. However, the effect is rewarding. The pulp is either put on a shortcrust pastry, or wrapped into a yeast dough which gives it unique shape of a spiral. Sprinkle your makowiec with orange peel and frosting or chocolate and enjoy this heavenly taste!
Although cheese cakes are popular around the world, the one from Poland has an ultimate taste. The secret resides in a high-quality cheese – fresh and fat quark. First of all, you need to mince it several times to make a perfect consistency. In fact, if you do it properly, the cheese cake doesn't need any additions at all! The effect after baking should be amazing – incredibly fine texture will make you feel like in heaven.
You can prepare this refreshing beverage according to a very simple recipe of Polish cuisine. Just take some fresh fruits and boil them with an addition of cinnamon, cloves or some favorite seasoning. Compote can be made with various fruits including apples, cherries, currant, pears, rhubarb, strawberries – it's up to your imagination! According to  Christmas Polish food traditions, you should make compote from dried fruits. People serve it during Christmas Eve as one out of 12 traditional Christmas Polish dishes.
Piwo has been present in Polish tradition for over a thousand years and has significantly rich history. It's been a favorite alcoholic beverage of Slavs for ages. Well, it still is for many of them. Polish beer culture offers variety of brands and local breweries from different parts of Poland. Wheat, dark, lager, porter or pilsner beer – which one is your favorite? If you visit Krakow, don't miss the opportunity to try a local beer "Krakowiak". However, remember what they say – there's not such thing as "going for one beer" in Krakow!
In fact, production of vodka dates back to early Middle Ages . It is considered to be best traditional Polish drink. There are pure vodkas or flavored ones including bison grass vodka, anisette, krupnik (vodka with honey), cherry, lemon or pepper vodka and many many more…If you visit Krakow, probably you won't avoid drinking vodka shots in the middle of the night… They say that it's a real challenge to drink with Polish people – do you think the same?
Famous oscypek is a traditional smoked cheese from the South of Poland (especially Podhale). However, it's  popular all over the country. You can buy it in Krakow as well – either in supermarkets or from some stalls in downtown. There are different shapes and types of oscypek – made of cow, goat or sheep milk. It's quite salty and perfectly goes with bacon, herbs or cranberry. The best place to try this unique salty cheese is Zakopane – very popular city among those who visit Krakow.
Polish sausages are definitely at the forefront of Polish dishes. They are a part and parcel of every Polish table and are very popular among people from around the world. There are plenty of Polish sausage varieties: fresh or smoked, made with beef, pork, lamb, chicken, turkey or veal. Additionally, each region of Poland has its own specialty. The one from Krakow (krakowska sausage), usually comes with pepper and garlic. People in Poland usually eat kielbasa with pickles and fresh bread with butter or lard.
Pickled cucumbers are definitely a staple of Polish cuisine. You can buy it in every grocery shop or supermarket in a jar or in traditional barrel. What's more, probably every Polish grandma has a collection of pickles jars in her cellar. There are three main types of pickled cucumbers in Polish traditions: sour ones, low-salt ones and sweet ones. It's specific taste perfectly mixes with Polish kielbasa and a shot of vodka. Additionally, a pickles jar is one of the most characteristic gifts you can bring home from Poland!
This perfect combination of alcohol and sweetness is made of fermented honey. Additions can be various – orange, cinnamon, cloves, ginger, mint… There are different types of mead – some can have 3,5% and some even up to 20 % alcohol. What's more, they say that mead will cure all your illnesses. According to Polish traditions, you should drink mead in a glass or a stoneware cup. This sweet drink  is perfect addition to Polish dishes. Poles also like to drink hot mead, especially during the wintertime – there's no better way to warm yourself up!
---
Polish pierogi – some facts about most popular Polish meal
According to a legend, polish dumplings appeared in Poland in XIII century. It was due to a Dominican friar, who fell in love with its amazing taste in Russia. In fact, that's how the most popular specialty in Polish cuisine has began its international career.
Festival of pierogi Krakow
Those who visit Krakow in August have a chance to experience an amazing festival of traditional polish pierogi! For a few days, Small Square fills up with exhibitors from the whole country. They sell their home-cooked pierogi and fight for the first prize in a contest. However, the best part is that everyone is welcome to try it!  During this pierogi feast you can find dumplings representing traditional Polish food as well as unconventional tastes inspired by cuisine from around the world.
In addition, the event is always accompanied by musical frame and various performances. So,  if you're lucky to be in Krakow at that time, don't miss Polish pierogi festival. 
Polish pierogi recipe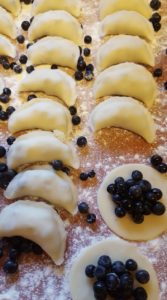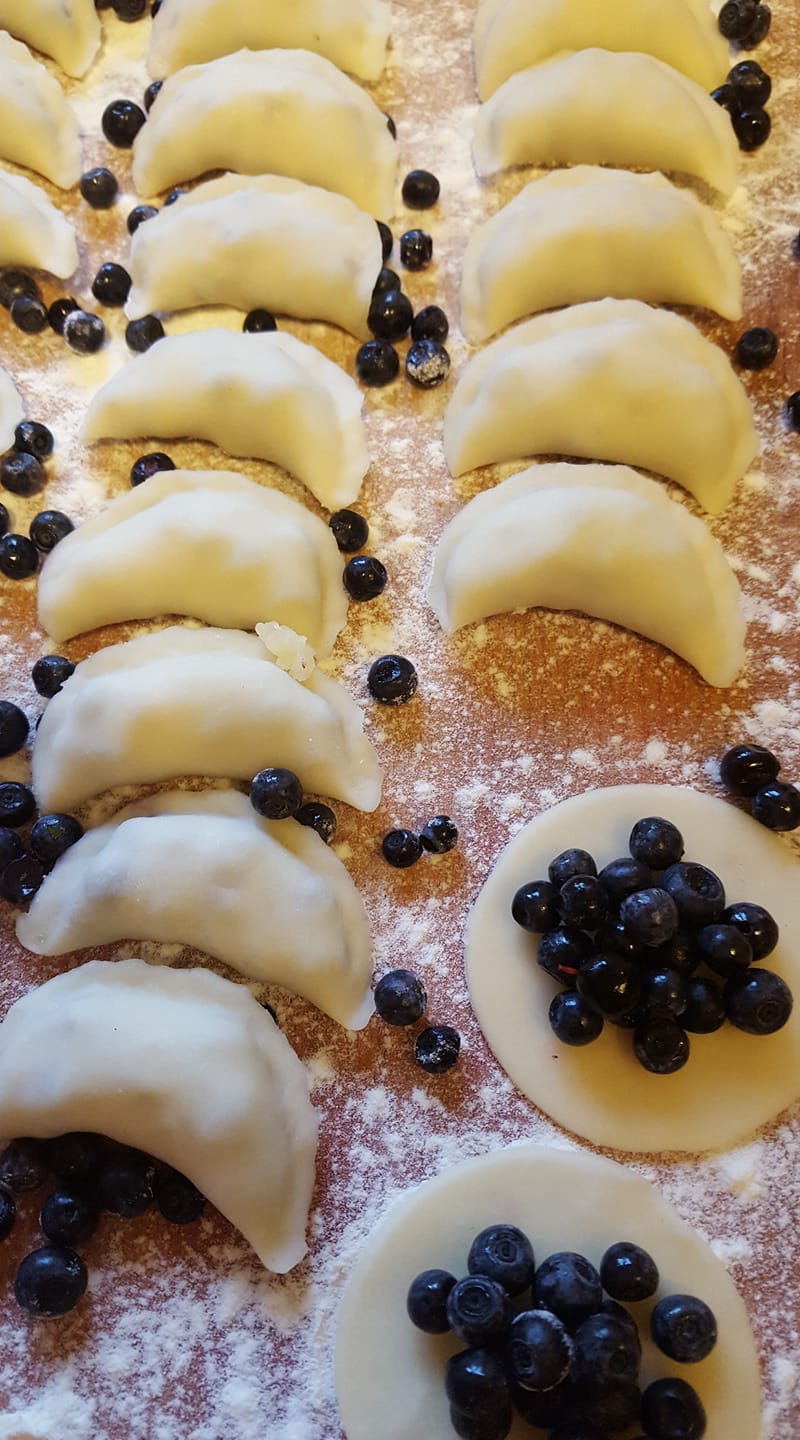 Would you like to know how to make most popular traditional polish meal? It's not that hard! All you need are favorite ingredients, some time and good company.
To make the dough you'll need:
flour
water
1 egg (not necessary)
Simply MIX the ingredients, ROLL it flat and CUT it into circles using a glass. Then comes the best part – filling. You can FILL it with your favorite flavors which can be smashed potatoes with white cheese and onion or cabbage with mushrooms and cumin. Don't forget to ADD spices! Use your imagination and make your unique pierogi with anything you like.
The last step is to fold the dough and form  a half-circle with thin edges. Place pierogi into an oven or boiling water. After 15 minutes your perfect polish dumplings are ready!
Types of traditional polish pierogi
What are the most traditional dumplings in Poland? Although  restaurants around the country serve various types of dumplings from around the world, the traditional ones are still number one in many menus. During your stay in Poland, you absolutely MUST try traditional dumplings with:
potato and white cheese,
cabbage and mushrooms,
cabbage and meat,
sheep's cheese,
buckwheat groats,
fruits (strawberries, cherries, raspberries, blueberries),
sweet white cheese.
---
Discover traditional Polish food with KrakowDirect
Our company offers several tours from Krakow that will familiarize you with traditional Polish food and drinks.
Explore best Polish dishes around a wooden table in traditional Polish restaurant. What's more, your dinner will feature a folk show with professional dancers. Don't wait and book a Folk Show tour today!
How about discovering a long history of Tyskie brewery? See the preparation of this popular beer on our Tyskie Brewery Tour.
Discover incredible traditional Polish food from famous region – Podhale along with Zakopane. We will take you to the city, where you'll find the finest Polish dishes. Book our transfer to Zakopane and begin your culinary trip through traditional Polish food.