No one has the slightest doubt that when it comes to Christmas, Central European countries have the advantage. Admittedly, access to huge amounts of snow may give our Slavic neighbors the edge, but our beautiful cities can be grand and elegant, and Polish imagination provides that key ingredient when it comes to Christmas – magic.
Krakow's Main Square then takes on festive colors and is filled with a bustling Christmas market throughout November and December. Whether you do it by day or by night, take a stroll and you'll find stalls selling iced gingerbread, wooden ornaments, and delicate jewelry. There will be a cure for a little hunger too! Cheese patties, huge meat sandwiches and Spanish churros, covered in Belgian chocolate, are just some goodies you can get there.
Winter visitors will be pleased to know that Krakow is already preparing for its Christmas traditions. As always, one of the key attractions is the Krakow Christmas Market, which occupies most of the Market Square. The big Christmas Market is usually erected in early December and lasts even a little into January, although undoubtedly the best atmosphere is there in the week before Christmas.
Where exactly does the Krakow Christmas Market take place?
The Krakow Christmas Market takes place on the Market Square in the heart of the bustling city. The Krakow Market Square is one of the largest in Europe, so there's certainly plenty to see. In short – food, drinks and of course gifts! There you can buy yourself a delicious mulled wine – Grzaniec Galicyjski. With frosty temperatures, it's hard to imagine a more suitable drink to warm up inside. There is also real Polish beer from a barrel. Numerous stalls with grilled sausages and oscypek cheese, provide other attractions for the palate. You will also find all Polish traditional dishes such as bigos, golonka and pierogi. There's no shortage of festive goodies either, such as roasted nuts in caramel, chocolate-covered waffles and waffles or traditional gingerbread.
But the main pre-Christmas point is after all the search for gifts for loved ones. Among the wooden stalls set up, you will find a wide range of Christmas products such as hand-painted bubbles, Christmas tree ornaments, decorative items, Christmas decorations, ceramics, woodwork, wool, cloth, artistic glassware, amber jewelry, souvenirs, postcards or calendars for the coming year. Krakow has a long history of manufacturing glass Christmas tree baubles, which are worth your attention.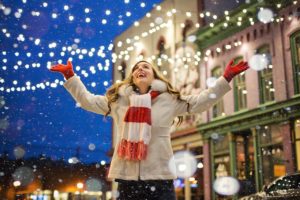 Christmas contest
A well-known Cracovian Christmas tradition, known almost all over the world, are nativity scenes. These are actually large, opulent constructions of cardboard and colored foil that people build every year with entire families, just for the occasion. They look like amazing structures from a fairy tale and are traditionally placed at the Mickiewicz Monument on the first Thursday of December, and then they can be seen for a few weeks at the Historical Museum.
On what dates is the Market open this year?
The Christmas Market in Krakow generally opens every year from the last Friday of November and stays open at least until two days after Christmas. In 2021 – the Christmas Market is open from November 26, 2021, to January 2, 2022. The Christmas tree lighting ceremony will start at 4.30 p.m. and the gospel choir DeocentriCity will perform on the Christmas Market stage. In turn, for the younger audience will play the band "Pan tu nie stał". On 02.12.2021 the traditional 79th Krakow Crib Competition will be held. Between 10:00 and 12:00 there will be a presentation of the cribs in the Market Square. Another interesting event will be the Santa Claus' s Procession on 04.12.2021 from 12:00 on the Small Market Square in Krakow.
Practical tips
Dress well! A warm scarf, hat and gloves are essential to enjoy walking among the stalls.
Take some coins and bills with smaller denominations. Most stalls don't accept card payments, and it's always good to have something to spare.
Check the weather beforehand to see if you will need an umbrella.
Don't forget to bring along a good dose of good humor and festive spirit to enjoy the goodness of Christmas with your friends or family.