Wondering what to do in Krakow in winter? Here, you'll find the best proposition for spending your time in the city. Read our guide and come round to visit Krakow when it snows outside!
---
1. Krakow winter Christmas market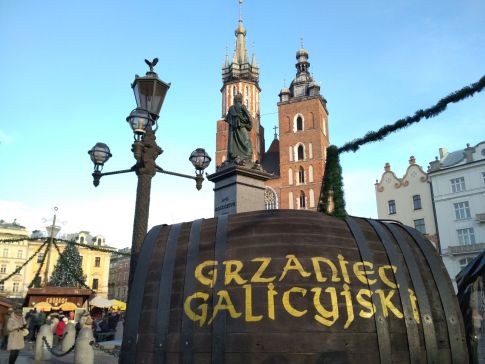 These annual Krakow winter markets have more than a hundred-year tradition. Its inimitable atmosphere attracts people from around the world. Each year it is open in for almost whole month in December. Colorful stalls with millions of different souvenirs attract people hunting for the best Christmas gifts.
Krakow winter fairs offers a broad range of gifts from handcrafted toys and festive decorations to traditional Polish clothes and unique jewelry. However, probably what attracts the most, is the scent of delicious food you can find at the market. An array of meats, cheeses (including famous oscypek) and Polish dumplings not only smells great but is also a feast for the eyes. However, there are also stalls from different countries offering their traditional food as well. Walking among the stalls, you can't overlook the giant barrels with wonderfully warming hot wine called "grzaniec galicyjski". So, now you know what to do in Krakow in winter to relax among Christmas atmosphere.
---
2. Skating in Krakow
Spending your free time skating on the ice is another advantage if you visit Krakow in winter. No matter if you do not have any experience in skiing – there's a first time for everything. It's the best option for those who seek active things to do in Krakow in winter.
The biggest open rink in Poland is located in Krakowskie Blonia, in Jordan Park. It is divided into three zones – small one for children (240 m 2), big one for adults (1000 m 2) and icy trail for everyone (360 m 2). You can go there either in the morning or late evening as the rink is open till 9 pm and on Friday and Saturday even till 10 pm.
Another open rink on Krakow winter map can be find in Nowa Huta quarter, right next to NCK (Nowohuckie Culture Center). . You'll pay the same price for renting skates, helmets or equipment for children.
If the rinks are not on your way, here are some more in other parts of the city: Cracovia Stadium rink (Siedleckiego 7), Daisy rink in Bronowice quarter (Morelowa 26) or an open rink beside Krakow Gallery. 
Use the opportunity of low Krakow temperature and get crazy on ice!
---
3. Skiing – visit Krakow Valley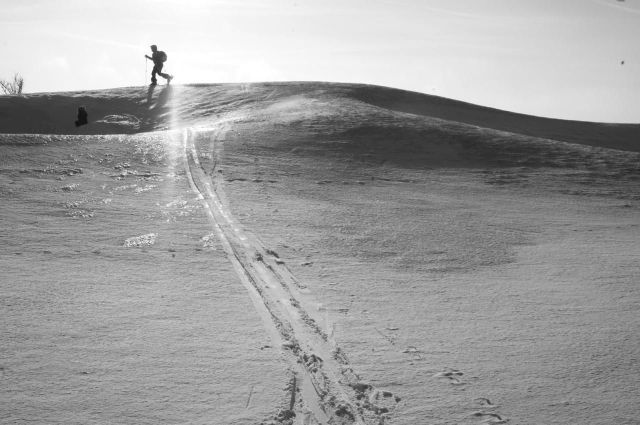 If you would like to ski a little bit, but don't want to reserve the whole weekend for a mountain trip, visit Krakow Valley! It's  the best solution for active ones! Located in Paczoltowice, only 30 km from Krakow city center, it's the high-class golf course that turns into the professional ski resort in winter.
It offers 3 drag lifts: 750 m, 350 m, 100 m (for children) and cross-country ski runs. If you don't have your own equipment, there is a rental company and service center as well. There is also a restaurant and parking lots right next to the slopes. Moreover, the views that you can admire while skiing in Krakow Valley are definitely worth to see. If the visibility is good, it's even possible to see Tatra mountains.
What If you have never skied before? Don't worry – you can always buy ski lessons guided by experienced instructor in the Valley. Attending such classes is one of the best things to do in Krakow in winter!
---
4. Krakow winter Szopka (Nativity scenes from Krakow)
Krakow Szopka (Nativity scene) is an old tradition dating back to the XIX century. Although it is popular all over the country, those Nativities made in Krakow are exceptional. The city's unique buildings, especially churches with its variety of architectural styles, has been an endless inspiration for artists to create beautiful szopkas. In 2028,  Nativity Scenes was inscribed on the list of UNESCO Intangible Cultural Heritage of Humanity. It's certainly something you cannot miss if you visit Krakow in winter.
Szopka represents Nativity scene with the background of buildings based on city's monuments and churches. Beside the Holy Family and other evangelical characters, you will see there many figures connected with Polish culture: figures from Krakow legends, dancers in traditional Krakow clothes, important sportsmen, politicians, community activists, priests and artists.
Due to the annual competition, organized on the fourth Thursday of December in Krakow, we can admire 40 beautiful szopkas all over the city. They are placed at different squares, parks, showcases, restaurants, hotels and shopping centers. Thanks to city's tradition, you can see the best of them during annual walk. It is called "Around Szopka" and takes place on 6th of January, the date of "Three kings" holiday.  It's definitely one of the best things to do in Krakow in winter.
The first competition was organized as far back as in 1937! To suitably prepare for the contest, participants practice for many months, sometimes even years. That's why their works are so impressive and definitely worth to see. Don't hesitate and take part in this special Krakow winter walk.
---
5. Krakow winter shopping craze!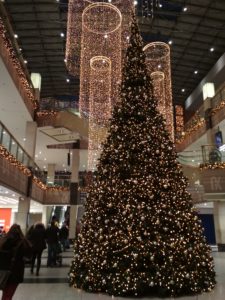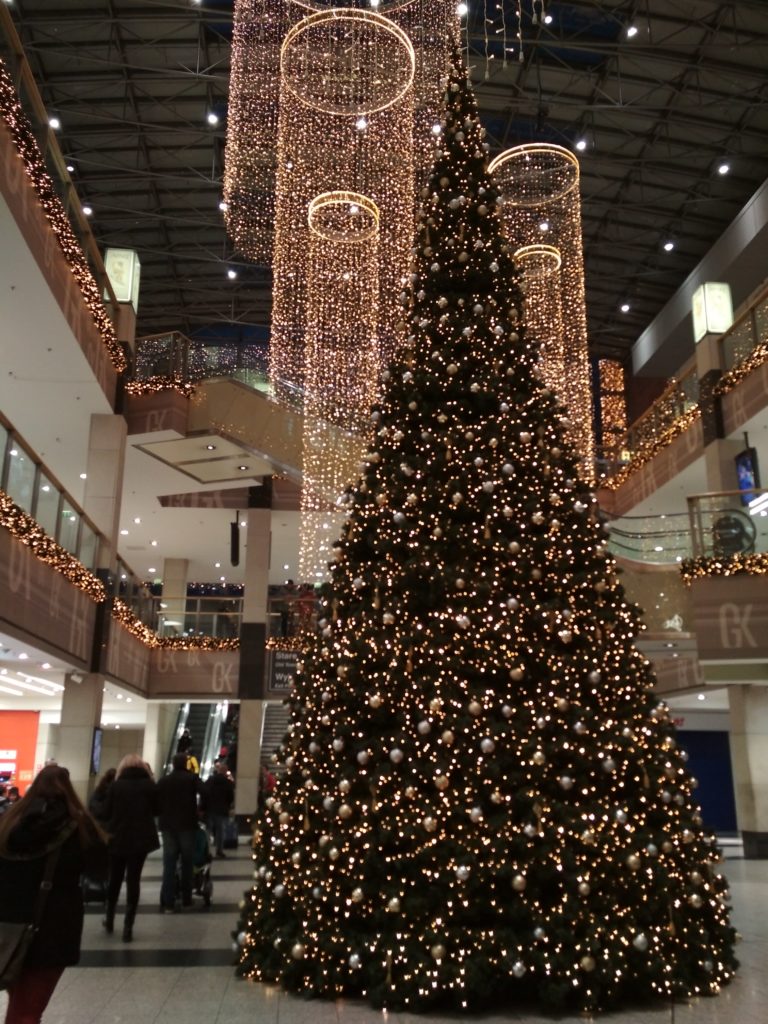 Good news for all shopaholic! January is the best month to visit Krakow and do the shopping catching best deals. Month of sales and attractive packages attracts hundreds of shoppers every day. In fact, many visitors from around the world are not well prepared for low Krakow temperature that can be really low. Consequently, they rush to shopping centres for some warm jumpers, hats and shoes to survive their Krakow winter visit. There are several major galleries in the city:
Krakowska Mall – Pawia 5
Bonarka Mall – Kamienskiego 11
Factory -Modlniczka
Kazimierz Mall – Podgorska 34
Bronowice Mall – Stawowa 61
Serenada Mall – Bora-Komorowskiego 41
---
6.  Krakow Winter Walking tour

No matter what's Krakow temperature outside – we organize Walking tours throughout the whole year. Krakow winter image is really beautiful. In fact, many people prefer to visit Krakow in winter than in summer. Simply, because it look like different city!  All you need to do is to take warmer clothes including gloves, hat and scarf. Our local, professional guide will show you city's landmarks and best features from the winter perspective.
---
7. Sleigh ride in Polish Mountains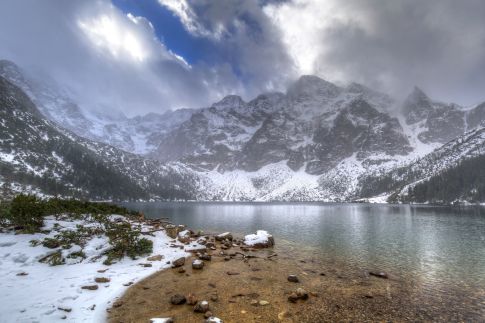 If you visit Krakow in winter, you should use the opportunity to go to Polish Mountains that are less than 100 km away. There, you'll have a chance to go for exciting sleigh-ride through a snowy forest! This old Polish tradition is present to this day and constitutes one of the major Krakow winter attraction.
If you want to try a sleigh ride, book one of our Zakopane tours from Krakow. So called "winter capital of Poland" Zakopane is a perfect city for sleigh ride. Take you friends or family and enjoy your Krakow adventure!