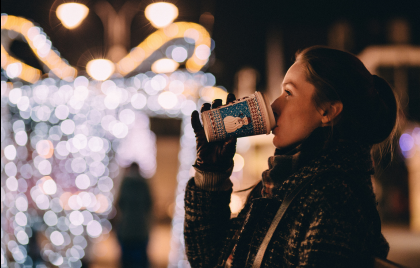 Jingle bells! Lucky ones who are spending Christmas in Krakow. They will definitely feel amazing Christmas atmosphere. It's one of the biggest holidays in Poland. You should visit Main Square in Krakow, where Christmas Market encharms those, looking for perfect presents. Or just unique, Christmas atmosphere. Wooden stalls are bending under hand- made Christmas tree ornaments, toys, figures…
Tourists will also find souvenirs made in polish folklore style and handcrafts. Also warm clothes like hats, scarves, gloves or woolen slippers. Perfect souvenir from snowy South of Poland or christmas present? Or just grabbing something for yourself? Decide on your own. What about delicious gingerbread cookie? To warm yourself up try spiced mulled wine while walking between the booths.
Children and folk bands are singling carols, which makes it even more magical. Snow is falling and little lamps enlighten the stalls. There is also live crib, where everyone can see figures of the Holy Family and live animals. If you are lucky enough, you can even pet them. 
Every year Christmas Market is visited by many people, both from Krakow and foreigners. Many people come to Poland, because the same products are simply cheaper than in Western countries. Even if you are not planning to buy presents, it's still worth to come! It's opportunity to try regional snacks. Most popular are like sheep cheese ,,oscypek" with cranberry or chunk of bread with lard. Also the atmosphere is unique and shows you Main Square from different perspective. Among all holidays in Poland this one is probably most native and warm. So, are you ready to see praised in foreign media Christmas Market?