If you visit Krakow in December, you can be sure you had made an excellent choice. Why? That's when legendary Krakow Xmas market takes place! The whole city is bustling in the Main Square exploring extraordinary Christmas stalls. This year's edition attracts record numbers of visitors. That's why you simply cannot miss Krakow Christmas Market 2019!
---
Dates of Krakow Christmas Market 2019:
29 November – 26  December
---
Krakow Christmas Market 2019
Although each Krakow Xmas Market brings plenty of visitors from around the world, this year's turmoil is a record-breaker. People seem to feel real Christmas atmosphere strolling amid various stalls of Krakow Christmas Market 2019. International merchants expose their various products at over 80 fair stalls. If you're looking for Christmas gifts, you'll plenty of things to choose for sure. Starting from hand made Christmas ornaments, through unique clothes (not only for winter) to various toys and candies. If you get a little bit tired after walking from one stall to another, you can always sit in a sleigh with a cup of mulled wine. You can buy one from a big barrel on the Main Square.
---
Food at Krakow Christmas Market
During Krakow Xmas Market you'll have a chance to try cuisine from different parts of the world. Delicacies from Germany, Lithuania, Slovakia, Holland or Ukraine prepared by local chefs always lure visitors with it's incredible smell. 
Of course, this event is a great chance to try delicious Polish traditional food. It includes an array of Polish sausages and other meats that are freshly grilled and served with a big slice of bread and lard. Numerous kinds of salty oscypek are also a part and parcel of each Krakow Christmas Market. Try some local traditional dishes (including bigos and beetroot soup) and discover the taste of Polish Christmas!
---
Long Tradition of Krakow Xmas Market
In fact, the history of Krakow Christmas market dates back hundreds of years. At the beginning, they were known as Krakow fairs and since years they have an immense importance for the whole city. During the Medieval times, Krakow was regarded as one of the most important trade centre, largely thanks to Krakow Cloth Halls 
Nowadays, Not only are they a chance to find original products to buy but also gathers the whole world in the heart of Krakow for the entire month. No doubts that all of this have very big impact on social, cultural and economic development of the city.
---
Krakow Christmas Market 2019 
This YeR, as always, Krakow market features numerous colorful stalls, giant christmas tree or stage for different performances. However, that's not all. Each Krakow Market features amazing events including parades, shows, competitions and engaging games for the youngest as well!
Presentation of  famous Krakow market Native scenes are one of the most important events during Krakow Christmas Market 2019 as it refers to an old city's tradition being on UNESCO lists. These are colorful, creative representations of  Nativity of Jesus with Krakow architecture in the background that re being displayed during Krakow Christmas Market. Other crucial events are:
Carol singers procession, 
Christmas wafer
Joint Carol singing
Santa Clauses Procession!
Don't waist you time and join Krakow Christmas market 2019 today!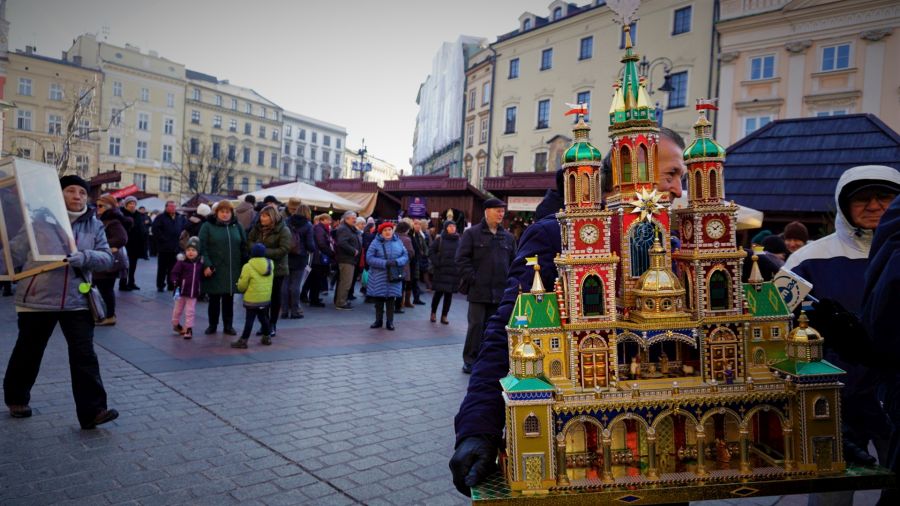 ---
Krakow Market tips:
* Reserve at least 2 hours for strolling among the stalls. If you're looking for a perfect Christams gift, be aware that each stall of Krakow market will stop you for a while!
* Don't come to Krakow Market if you're not hungry! Remember that an array of various dishes snacks and sweets are waiting there for you. It's simply impossible to resist.
* Try visiting Krakow Market both during the sunny day and as the sun comes down. The atmosphere is much more magical in the evening as Christmas lights illuminate the whole Krakow Main Square.
* Don't forget to try a speciality of Krakow Market: Gzaniec Galicyjski! Warming and delicious mulled wine is simply perfect addition for the craze of Christmas shopping.
---
Explore Krakow in December
It's never too cold to visit this incredible city. Krakow in December can be really beautiful, covered with frost. And it applies not only to Krakow market but to the whole city. You can discover it from wintertime perspective during one of walking tours that are available through the whole year.
Also, winter is a perfect time to go to Zakopane. It's a picturesque area of Southern Poland where Tatra Mountains are located. Discover the city (winter capital of Poland) during one of our Zakopane tour from Krakow. Incredible landscapes and inimitable atmosphere guaranteed!
Xmas Krakow Market, however, is not the only attraction in the city during this special period. Find out more about Wintertime in Krakow and its best features

---