Where is Krakow located in Poland?
Many people already knows that Krakow is the best city in the world. However, there are some who don't have idea where is Krakow located. Time to change it!
Krakow it's the second largest city in Poland located in Malopolskie Voivodship in Southern Poland. For more curious ones, its exact geographical coordinates are: 50°03′41″N 19°56′18″E. 
It's 18 km wide and 31 km high.
In fact, the area where is Krakow located features beautiful landscapes and rural views. Northwesterly we can find picturesque Polish Jurassic Highland. It's a spectacular area featuring limestone rocks, cliffs, valleys and caves. All of them that originated in Late Jurassic epoch. On the other hand, the city lays near legendary Tatra Mountains. This area is extremely attractive during summer as well as during winter. Weekend in Krakow seems to be tempting for the whole world!
If you wondering where is Krakow axis, the answer is Vistula. The main Polish river crosses Krakow creating attractive area for relaxing walks or bike routs.

---
Krakow weather conditions
If you're planning to visit the city it's good to know what are Krakow weather conditions. As you may already know, Polish weather is very diverse and can play tricks. Due to Poland location and its temperate climate, there are 4 seasons and each is totally different. In consequence, the same unpredictable situation is present in Krakow. For example, high temperature record was 38,5 Celsius while the coldest temperature was –38 Celsius!
So, be prepared for scorching summer as well as for harsh Krakow winter!

Where is Krakow Main station?
It's probably one of the most popular questions that citizens of Krakow hear form tourists. Excuse me, where is Krakow located Main Station? In fact, it's easy to get there from any part of the city. It is located in the very centre of Krakow. What's more, it's a place of Krakow main station for trains as well as for buses.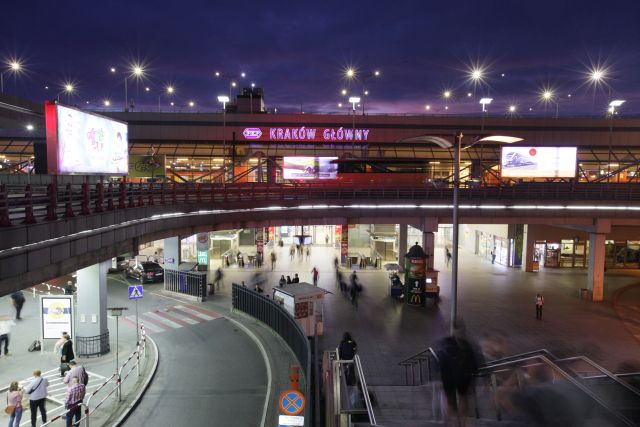 There are several bus and tram stops near the Main station – East Main Station, West Main Station, Slowacki Theatre and  Tunnel main Station.
If you know where is Krakow Shopping Centre (Galeria Krakowska) – you know where's the main station! It's exactly the same place. That's why is always busy and full off people either running for their trains or for shopping.
---
Where is Krakow nearest airport
John Paul II Krakow international Airport (Balice) lays only 15 km from the city centre. It takes only about 30 minutes to get there from Krakow Main Square. Due to the big amount of Krakow tourists, Krakow airport transfers are very popular.
However, there is also a public train, as well as a bus going from Krakow Glowny to Krakow Airport. Nevertheless, a private transfer is recommended. All in all, it's extremely important to be on time for your plane.
Another airport close to Krakow is Katowice-Pyrzyce International airport located 50 km from Krakow. Katowice Airport transfers are second most popular in the city.
---
Where is Krakow in Poland – see it on a map
Check distances from Krakow location to other major cities in Poland:
Warsaw – Krakow location: 292 km 
Poznan – Krakow location: 459 km 
Wroclaw – Krakow location: 272 km 
Gdansk – Krakow location: 554 km 
---
Krakow surroundings
If you wonder where is Krakow best neighborhood to visit, you have several options. First of all, there is Auschwitz Birkenau concentration camp. Located around 70 km away from Krakow, the largest former Nazi concentration camp in Poland attract over 2 million visitors every year. Another place in Krakow surroundings is Wieliczka Salt Mine – 13-century  amazing salt mine. It constitutes real national heritage and is one of the oldest such mines in the world!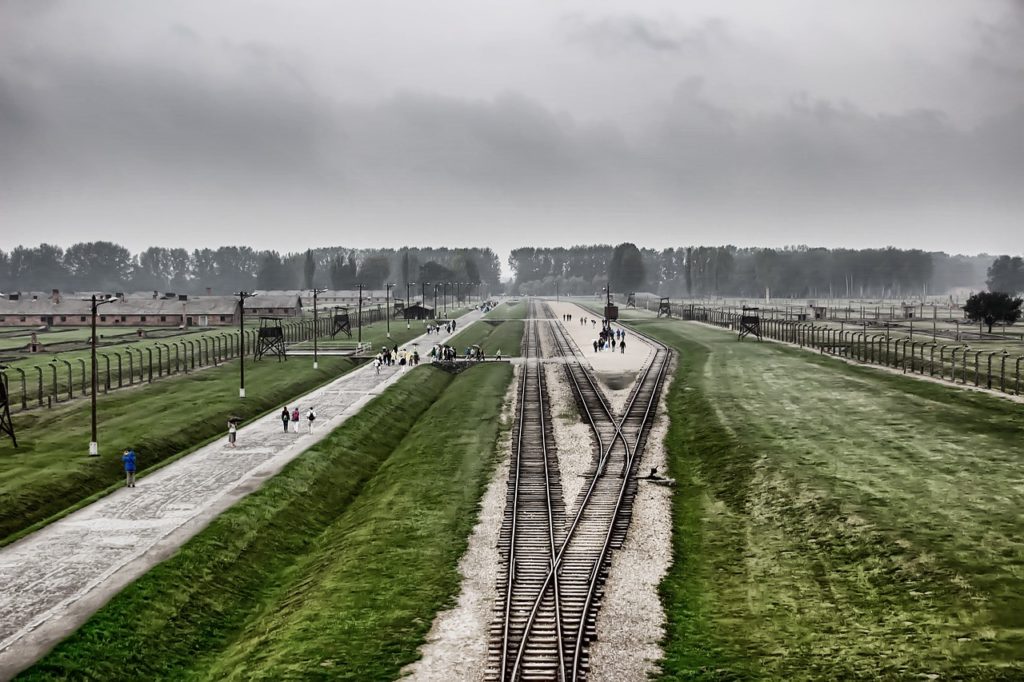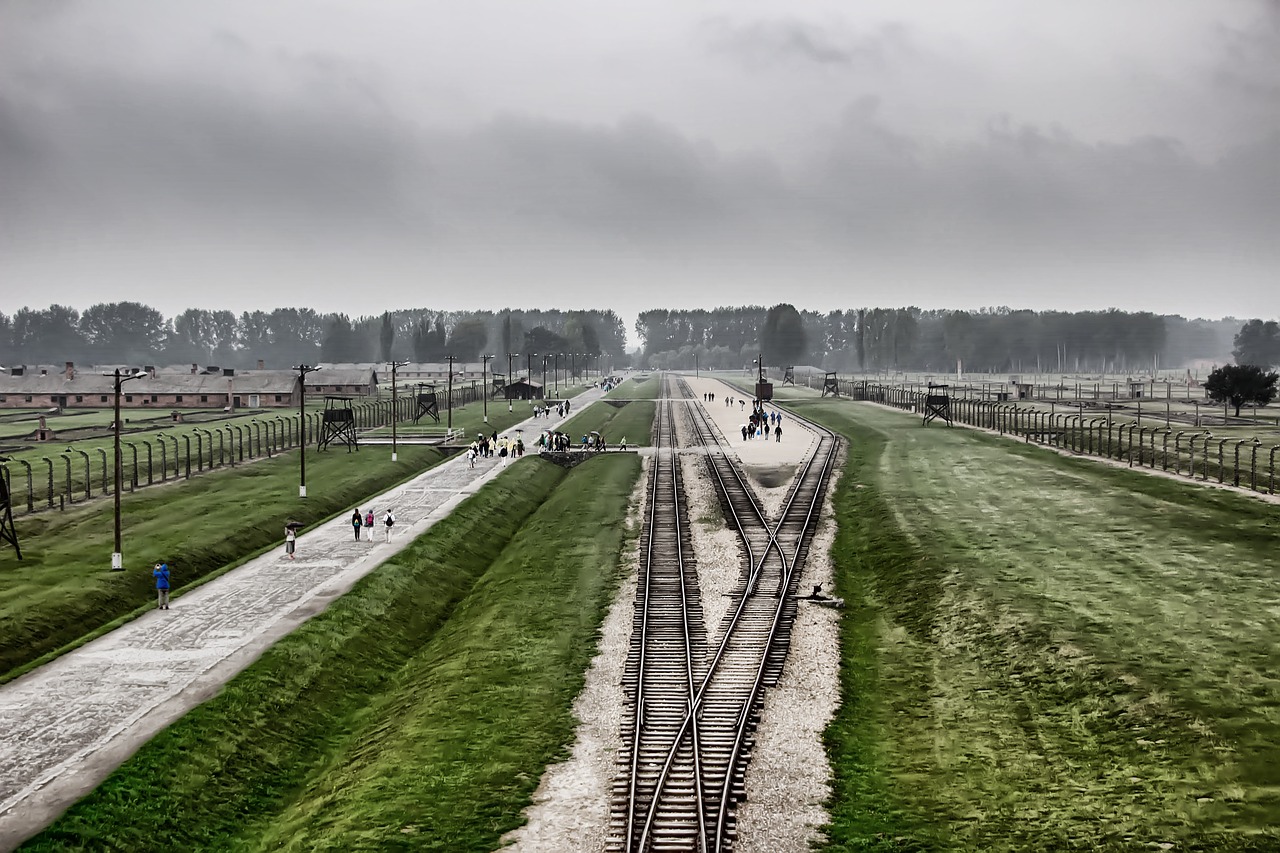 ---
Where is Krakow tourist information point?
If you plan to visit the city, you probably wonder how will you be getting around in Krakow. Should you chose Krakow tram, Krakow bus or maybe go on foot? Fortunately, with numerous info points., you will quickly make up your mind! If you wish to know the exact location of some best Krakow attractions, tourists points are here to help you. Find out more about Krakow tourist information >> 
Also, its crucial to know how to move around the city. So, if you already know what is Krakow particular attraction that you would like to see, find out what's the best transportation. 
---
---