Wondering which route to take during your visit in Krakow? Check our free Krakow map in PDF with description of the most important Krakow attractions.
Download Free Krakow map in PDF
Krakow map with attractions
Learn more about best Krakow attractions and best things to see in Krakow map

See Krakow Old Town Map
Krakow Old Town is one of the most beautiful old towns in Europe. It's the oldest area of the city, listed on UNESCO World Heritage List in 1987. It's also a central point of the city.
Its unique architecture, that you can see on Krakow old town map  has remained unchanged since Medieval Times.
Right in the middle of the old town there is Krakow Main square, almost a perfect square (200 x 200). It's the very heart of Krakow where the most important objects are located.  It includes St. Mary's Basilica, Cloth Halls, Town Hall an Mickiewicz Monument. have you seen all of them?
Historic Kazimierz and Podgorze
In the bottom part of of Krakow map you can see other two prominent city's districts.
Kazimierz is the famous Jewish Quarter of Krakow. You'll find an incredible Jewish heritage in there. Besides 9 beautiful synagogues, one can sit in a Jewish restaurant and listening to Jewish life music in Kazimierz. Also, it's a culture, as well as a party centre of the city. You'll see that the district never sleeps thanks to its numerous local bars and music clubs.
Podgorze is a district that every Krakow tourist should see. First of all, because we can find Schindler's Factory in Podgorze. It's an amazing museum with interactive exhibitions that picture World War II period in Krakow.
City for Walks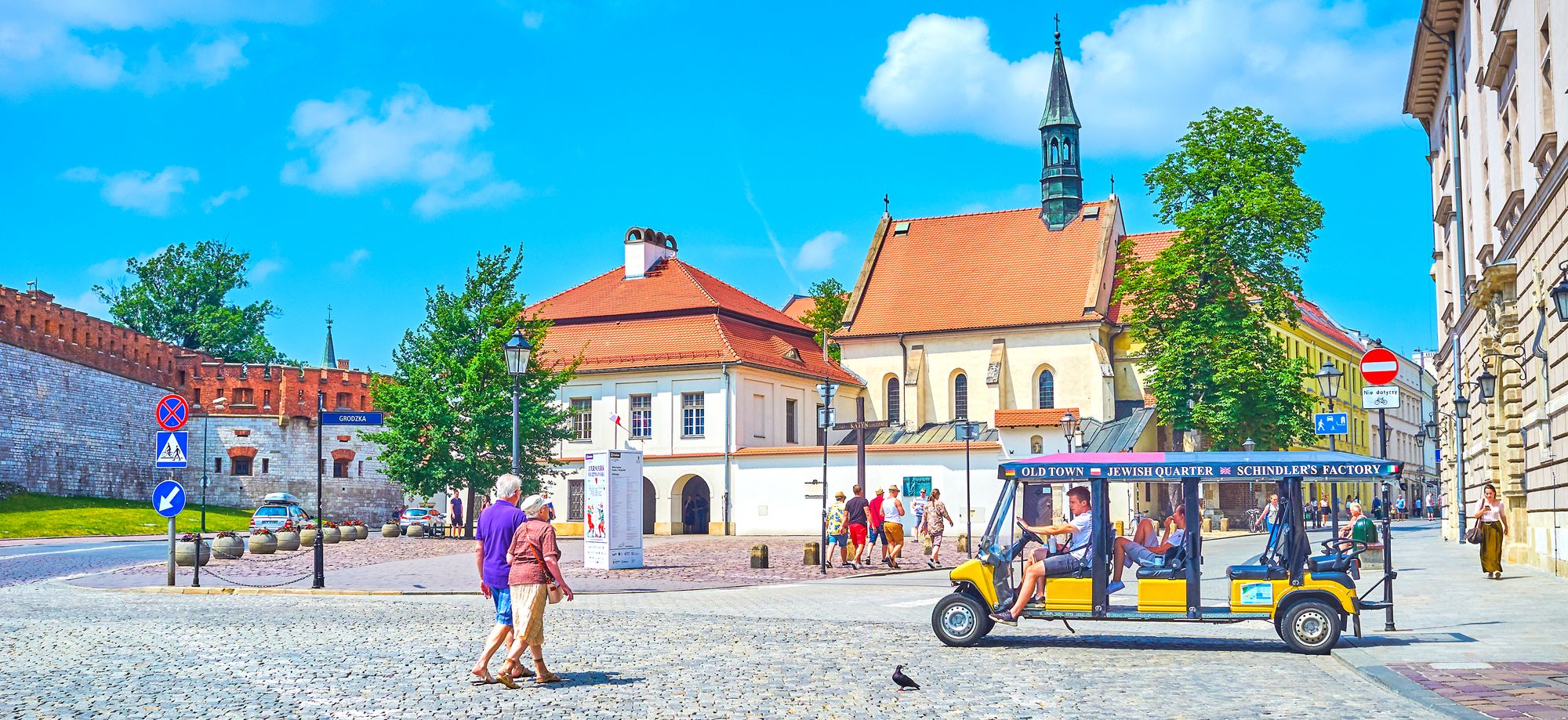 The river you can see on Krakow Map is of course Vistula. Although it spans all across the country, in Krakow it is located unusually favorably. Its banks are adopted for long picturesque and enjoyable walks, runs or simply for laying on the sun. There are also Vistula boats with climatic restaurants inside. You can go on an amazing Vistula cruise (by Krakow water tram) that features breathtaking landscapes of different parts of the Krakow.
Of course, you can always book a Krakow walking tour and try to localize on a Krakow map all places that you visit with your guide.
Getting around in Krakow with electric car
Krakow Old town map can help you in getting around in Krakow significantly. Whether on foot, by bike or by one of famous Krakow electric cars. In fact, using the last one, you'll be able to cover all attractions from Krakow Old Town map and see other districts as well! Jewish quarter, Nowa Huta or Podgórze district are definitely wort to see. Each of then is completely different and has something else to show and to amaze with!
Discover every district and make sure that all points from your Krakow map are ticked off.
---
Take your Krakow map with you and begin amazing journey in this magical city today!
---