There is no better city to visit in Poland than royal Krakow. Are you wondering what are the best trips in Krakow? Let's shed some light on amazing Krakow tourist attractions. Having a Krakow guide it's the best option for every visitor – find out why!
A Krakow guide will comprehensively explain you all important facts about city and its amazing attractions. Are you ready to discover all of them?
Krakow tourist attractions- what should I see in the Old Town?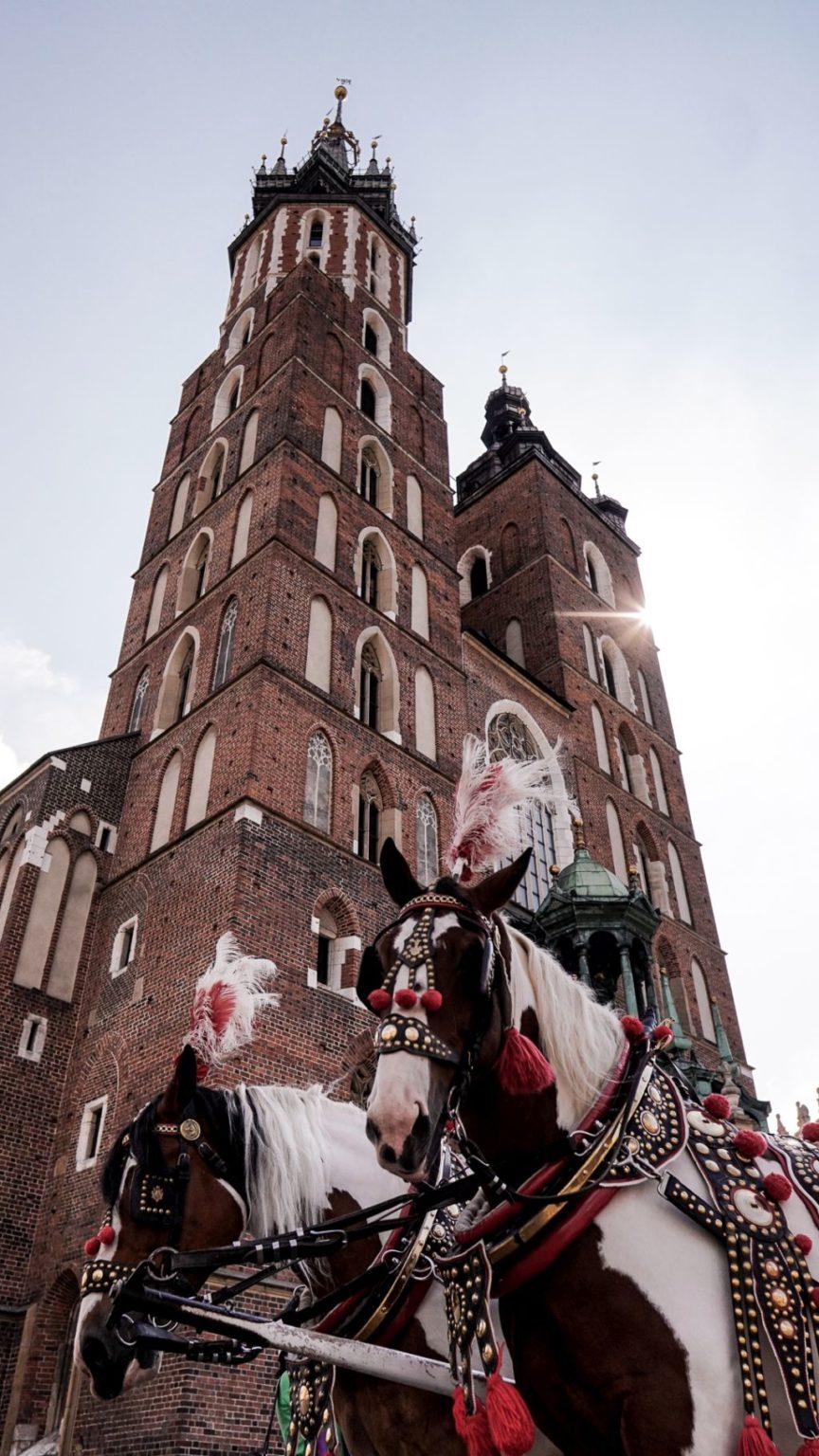 First of all, we should mention the Krakow Old Town. Everyone comes to walk around Main Square. It's one of the biggest plazas in Europe with unique, medieval character. Luckily, it survived the war, and those buildings remember hundreds of years. 
Mariacki Church
The main object on Main Square is Mariacki Church (St Mary's Basilica). The legend says, that it was built by 2 brothers. The older one, who built the lower tower, stabbed his brother with envy. This knife is hanging currently in Cloth Halls – another crucial object on the list of Krakow tourist attractions.
Cloth Halls
Krakow Cloth Halls was a centre of international trade since Middle Ages and was rebuilt a few times. Nowadays, it's still a trading place, where you can buy furs, sheep coats, regional clothes or amber jewelry.
Town Hall Tower
Town Hall Tower is another important building on the square.   In the underground of the tower there is also a theater and a restaurant. It's worth to walk around those places with Krakow guide, who knows all the mysteries of those old buildings.
Wawel Castle
After visiting Main Square we take Grodzka royal street and we head towards Krakow trademark- Wawel Castle. It's been a headquarter of polish kings and queens, place of coronations and burials. Nowadays visitors may see Royal Apartments, Treasury, Armory and State Rooms. Museum also contains exhibition where reigns famous Leonardo Da Vinci's Lady with an ermine. After spending time on the hill it's time to visit symbol of the city, one of the most recognizable Krakow tourist attractions- Wawel Dragon. His cave is hidden under the Wawel hill, and his big statue which breaths fire stands nearby. It's exciting especially for children!
Krakow tourist attractions – incredible heritage
Beside Krakow Old Town, there are also other important districts in the city – Kazimierz and Podgorze. The first one is an old Jewish quarter where one can find amazing Jewish heritage. It includes several beautiful synagogues and Jewish cultural centres. Also, there are numerous Jewish restaurants with traditional cuisine. On the other hand, there is Podgorze  – a historic district with important monuments worth to see. One of it is Schindler's Factory being one of the best Krakow tourist attractions.
What's more, if you look for things to see in Krakow don't miss Saint Wojciech Church! It is said that in this place Saint Wojciech has been giving speeches and a wooden church had been raised there. Later on it was rebuild in baroque style.  There is also underground archaeology museum located in the church.
Discovering best monuments with Krakow guide

There is no better way to discover this beautiful city with local Krakow guide. He'll give you interesting historical background of the places you visit. That will help you to understand how important events in history took place in the city. Hiring a professional Krakow guide is something you won't regret for sure!
We organize Krakow walking tours  with a Krakow guide and you can choose which districts you would like to see the most. Old city, Jewish Quarter, Nowa Huta or maybe all of them?
Krakow Old city it's not only a Main Square with its St. Mary's Basilica. Our walking tour also includes: Royal Route, Cloth Hall, University Quarter, city walls, Planty Park, Wawel Castle and Cathedral.
Nowa Huta is a quarter that is not so popular for tours in Krakow. However, is incredibly attractive as well! With a local Krakow guide, you'll learn about its interesting history.  Socialist-realist architecture, Cistercian Abbey, Wanda Mound are only few Krakow tourist attractions that you'll see during the tour.
Krakow Museums devoted to Holocaust issue
Trips in Krakow often lead to the places connected to Jews' history, Holocaust and massive deportations. One of the best Krakow tourist attractions- Schindler's Factory is a modern, interactive museum. It takes you to an old Krakow, under Nazi occupation. It's a thrilling story about bravery, friendship, and fight for freedom. History of Oskar Schindler became popular when Stephen Spielberg made a move Schindler's List. This German investor decided to save lives of his workers, risking his life while lying to his Nazi friends. He lost his fortune, but finally was able to help them run away.
Discovering former Krakow ghetto

It's advisable to hire Krakow guide to tell you more thrilling stories about this period of time. Another place good for trips in Krakow is Tadeusz Pankiewicz's Pharmacy under the Eagle. He was the only non- Jew  living in the ghetto. It was a gate for the outside world and he was trying to do his best to help those people survive. It was a place where intellectual elite has been meeting and a shelter for hiding Jews. Pankiewicz was doing his best to smuggle food and medicines for them. Reconstruction of the pharmacy was based on memories of Pankiewicz, and people who were visiting this place. There is also alternative for walking. We also organize Krakow city tours by electric car. Especially those, for whom long distances are a barrier, will appreciate this option. Audio guide will tell you all the secrets of the places you slowly pass by.  
Experience Krakow traditions and festivals
If you're looking for best Krakow, let's not forget interesting festivals happening in here. in fact, every month different events connected with culture attracts crowds from around the world
If you have a chance, take part in on of the international movies festival:
Off Plus Camera 

Etiuda&Anima

Krakow movie Festival
Krakow is also a perfect place for music lovers. Numerous music festivals offers wide range of artists from any genre:
Baroque music: Misteria Paschalia 

Contemporary: Sacrum-Profanum

Film music: Krakow Film Movies Festival,

Juwenalia (students' festival)

Jazz: Summer Jazz Festival, Jazz Juniors

Music in Old Krakow,

Blues: Bluesroads festival

Electric and experimental: Unsound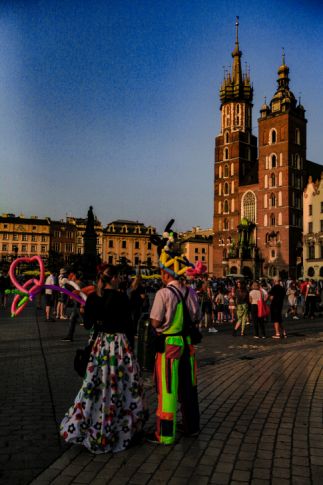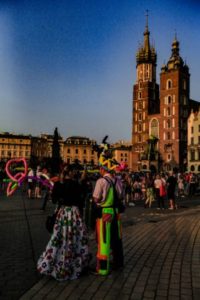 Theater Festivals are also very popular Krakow tourists attractions. If you visit the city in summer, don't miss:
International Street Festival
"Boska Komedia" ("Divine Comedy")
Opera Rara
Also, there are many feast during different holidays. Christmas and New Year's Eve markets, Nativity Scenes Walk, Easter indulgence or Wianki (pagan traditions). Taking part in one of Krakow's parades will be an unforgettable experience as well! Dragons' Parade and Lajkonik March are events devoted to the most popular figures from Krakow legends – Wawel dragon and Lajkonik.
What's more, you'll find many street artists on the streets. So even if there's no festival happening, the art can be found everywhere. It will make your trips in Krakow much more colorful for sure!
Trips in Krakow
There are plenty of trips in Krakow to choose. Each Krakow walking tour offers different options to choose. As the city features diverse districts with different Krakow tourist attractions, you can discover something new every day. Krakow old town, Kazimierz, Nowa Huta, Podgorze, Zwierzyniec – decide by yourself which one is the best for you.
Additionally, you have a lot option to choose concerning trips from Krakow. In fact, Auschwitz tour and Salt Mine Wieliczka tour are two absolute "musts" during your visit in Krakow.