Every city has some characteristic object, events or figures that you won't find anywhere else. They are the most popular motifs for souvenirs, magnets or postcard. So, if you are wondering what to see in Krakow – its 5 symbols should be at the top of your list!
---
Obwarzanek
Have you already tried obwarzanek? If not, chose your favorite flavor and get to know the most popular snack in Krakow. You can be find on every corner in the city, in small blue carts. There are around 180 such carts in Krakow and an average daily production of obwarzaek amounts to 150 thousand! It has also status of a regional food with protected geographical indication.
Ingredients, needed to make an obwarzanek, are not very complicated – wheat, fat, water, yeast and salt. However, the secret resides in its unique shape (resembling a ring) and structure (pastry need to be boiled) that is the same as it was many years go. In fact, the tradition of baking obwarzanek dates back to XIV th century! Nevertheless, only the privileged group of bakers in Krakow could produce this delicacy (first only in Krakow).
So, what is your favorite seasoning of obwarzanek? Sesame, poppy seeds, salt or spicy cheese?
What to see in Krakow – Museum of Obwarzanek
Additionally, there is an unique museum in the city that is completely devoted to this snack! It lets its visitors discover obwarzanek history and to learn how to make your own!  So, if you still wonder what to see in Krakow to discover local traditions, the museum is definitely good choice.
---
Wawel Dragon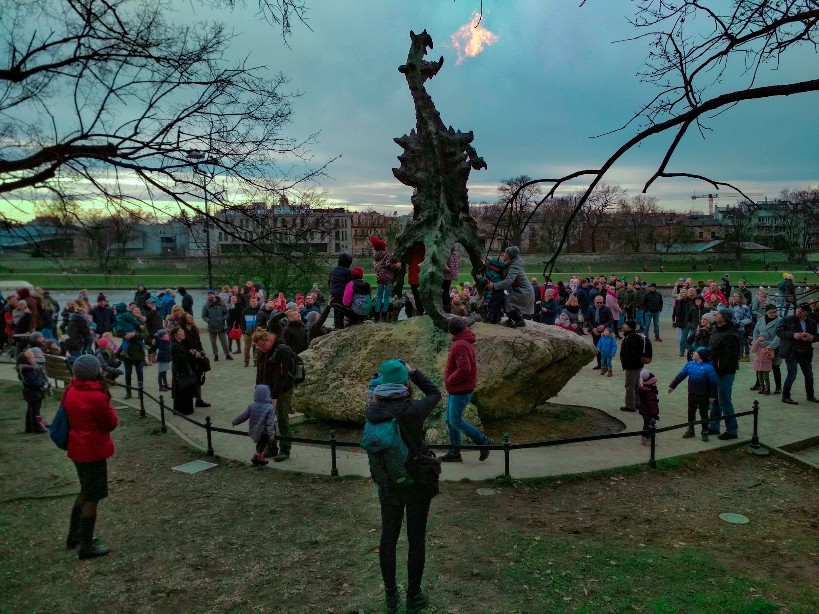 Wawel Hill is an obligatory place to visit for those who wonder what to see in Krakow. It is one of the most precious heritage for history of Krakow. Yet, it's also a dwelling place for a legendary Krakow resident – Wawel Dragon. In fact, he is probably the most popular Cracovian in the history. His monument stands proudly at the bottom of Wawel Hill and repetitively breaths with fire. Moreover, there's still his dragon's den where he used to live.
Once upon a time this naughty dragon was harassing Krakow city by consuming its citizens. No knight was clever enough to defeat the beast. In the meantime, a shoemaker called Dratewka came up with an original idea. He prepared specific meal for the dragon – a serving of sulfur, skillfully hidden in the lambskin. The beast immediately bolted down the "lamb" that was left in front of his den. After a while he felt a great thirst and started to drink from Vistula River. He drunk so much, that finally a loud BOOM was heard all over the city – the dragon exploded. At last, Cracovians could enjoy their peaceful life without the dragon's terror.
Dragon's Den is not only an answer for what to see in Krakow? but also what to take snap of? In fact, dragon sdon't have easy life as he is surrounded by paparazzi all the time.
So, If you prepare "what to see in Krakow" list, take a while and visit the dragon's den.
---
Cracovian pigeons
Main Square, the very center of Krakow, it's always full of people. However, it's not only a meeting point for citizen's and visitors, but also for its special residents – Cracovian pigeons. Did you know that they are no ordinary birds? Once upon a time, they have been bewitched…
The legend says that in the XIII th century, prince Henry IV desired to unite all Polish lands under his rule and become the king. Unfortunately, he had no money and he ask one witch for a help. So, she turned prince's warriors into pigeons! They rimmed St Mary's Basilica in the Main Square and started to peck at its walls. Falling pebbles were turning into gold coins so the prince soon became very rich. He took all the money and went to Rome to find Pope's support in becoming a king. Unfortunately, he blued all the money on feasts o his way… Prince never came back to Krakow, while his faithful enchanted knights are still waiting for their king.
Although some Cracovian may not like the flocks of those intrusive birds, for visitors it's always a big attraction. In fact, pigeons in Krakow are very social – try to feed them with obwarzanek and you'll immediately find out why.
---
Lajkonik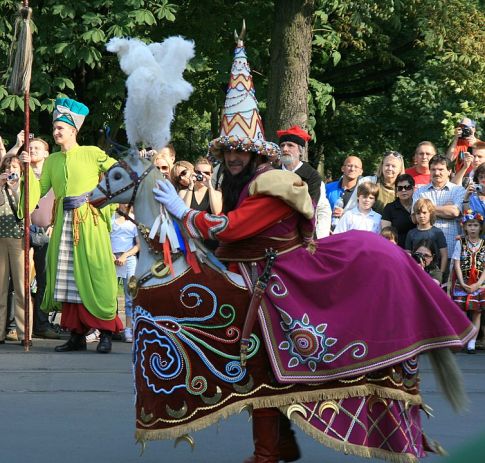 Have you already seen Lajkonik in Krakow? You only need to look around – you'll find it in advertisements, names of different shop's, bakery's, travel agencies, hotels, even inside trams. It is represented by a bearded man dressed in colorful Mongol costume. Together with his pointed hat and wooden horse around his waist he is extremely characteristic figure associated with Krakow. However, not many people know why is lajkonik such a symbol of the city. Do you?
Legend says that that in the XIII th century, Tatar army was getting closer to Krakow and all citizens were despairing. Finally, one daredevil decided that he'll fight with Tatars. Other Cracovians felt a fighting spirit as well and all together set out to the battle. Soon, they won the fight and proudly returned on horses to Krakow. Also, they dressed up in colorful Tatar clothes as the sign of victory. And that's what Lajkonik represent – the winning return of brave Cracovians.
Krakow has been organizing Lajkonik Festival every June, since at least 700 hundred years. A man dressed up as the "main lajkonik" covers always the same route. According to tradition, he is accompanied by a local band and procession of people dressed up in Polish, as well as in oriental garments. If you visit the city during this period, Lajkonik parade is definitely can't be missed by those wondering what to see in Krakow!
---
St. Mary's Trumpet Call (Hejnał)
It has been reverberating over Krakow Main Square since 1838 and you can hear it 48 times a day. The most popular melody in the city is a part and parcel for every Cracovian who know it by heart. Every hour, St. Mary's Trumpet Called is being played 4 times, each in different cardinal direction. It was listed in the Guinness Book of Records in 2001, as it was played by nearly 2,000 trumpeters from all over the world. One of them, called Adolf Smietana, had been playing the melody every day for 36 years!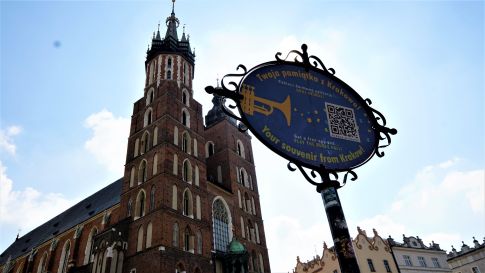 However, there's something strange in the melody as every time it ends abruptly. Have you ever wondered why? It is related to the legend about Mongol invasion of Krakow in the XIII th century. When a sentry on a tower of St Mary's Church saw enemy's troops, he immediately played Hejnał, as it was official alarm for the city. Unfortunately, the trumpeter was shot in the throat while playing. That's why he couldn't finish the whole melody. Since then, the bugle call is never played to the very end.
So, next time when you cross the Main Square on the hour, stop for a moment. Listen to the legendary call and strain your eyes to wave back to trumpeter.
---
What to see in Krakow list  – summary
Take a walk in Krakow Old Town and try all tastes of Obwarzanek. Buy hundred more for all your friends and family back home.
Leave some crumbs to scatter it in the Main Square for hundreds of Krakow Pigeons.
Raise your head and try to spot a trumpet player leaning out of  Mariacki Church's tower.
Is it June already? Go and enjoy a jolly tradition of Lajkonik Parade!
Go to Wawel Hill and check what's new in Dragon Den. Take a camera with you!
---
See more during Krakow Tours
If you want to know what to see in Krakow and learn city's comprehensive history and customs – book a guided Krakow walking  tour. A local, professional guide will show you all city's landmarks. Additionally, he can recommend you what to see in Krakow different districts – not only those most popular.
Read about more interesting things to see in Krakow that you can discover during your weekend in Krakow. 
---
---