If you're planning to go on Wieliczka Salt Mines Krakow tour, read this guide and learn out all you need know before your trip. See how to get there, what will you experience, how should you prepare, what to take and what to leave. Enjoy!
---
What will you see during Krakow to Salt Mine tour?
Salt Mine in Wieliczka is simply stunning. Walking inside, you can feel as if you stepped into a movie scene from a Disney film! It's  a grand cave with countless, winding corridors filled with mysterious lights that show you the way. All these corridors, made of salty rocks are connected by stairs leading you into depths of Wieliczka salt mine. Step into this magical world during one of our Wieliczka salt mine Krakow tours!
On the other hand, Salt Museum in Wieliczka is a memorial for all miners who worked there over the centuries. There are numerous exhibitions and objects reminding about hard and difficult work or brave miners.
During Wieliczka Slat Mine Krakow tour a local guide will lead you through 20 exquisite chambers to show you the best of its features.
---
Different Routes in Wieliczka Salt Mine
TOURIST TOUR
Tourist route covers 3,5 km of picturesque paths and lasts around 2,5 hours. You'll discover the place 135 meters underground and take 380 steps. It features scenic landscapes of long corridors, brine lakes, salty monuments and royal chandeliers. Starting point of the tour is a historical lift – miners shaft.
MINERS ROUTE
Experience real adventure during a tour from Krakow to Salt Mine in Wieliczka! During Miners route you'll become a real miner with professional tools. Also, you'll use another historical lift used only by professional miners. A local guide (experienced miner) will explain you all the rules and will give you some tasks to do. However, be aware that this route requires bigger physical effort.
---
Significant Chambers inside:
NICOLAUS COPERNICUS CHAMBER
It was created before 1785. The chamber features beautiful work of art – a figure of Nicolas Copernicus. He is standing with a small symbolic globe in his hand pointing to the sky.  It's a commemoration of the great astronaut who "stopped the Sun and moved the Earth". In fact, as a student of Krakow University, he visited salt mine in Wieliczka in 1493 becoming one of the most notable guests in place's history. The chamber characterizes with wooden constructions that serve as special reinforcements to Wieliczka salt mine.
SAINT ANTHONY CHAMBER
Dating back to 1698, it's the oldest chamber in Wieliczka. Beautiful, baroque architecture, tho side altars and its relatively big size makes it very impressive place. There are many figures of different saints inside the chamber.
JANOWICE CHAMBER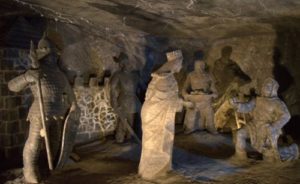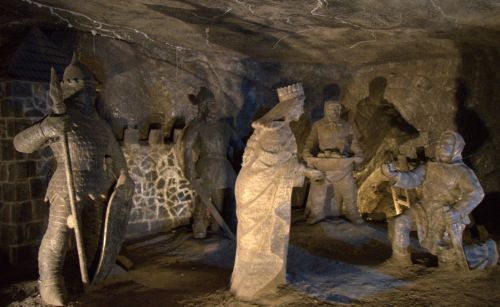 This XVII-century chamber together with its statues tell the most important legend of the mine. In fact, the story of salt mining in Poland is a result of a coincidence. As St. Kinga came to Poland from Hungary she wanted to give country a gift. So, she asked his father to give her one of the Hungarian salt mine. He agreed and that's how the tradition of salt mining started to spread.
SIELEC CHAMBER
Do you wonder how hard miners were working in 13th century? In Sielec Chamber we can find reconstructed tools that were used for salt transport. It includes different kinds of carriages and traditional trucks.
CASIMIR III CHAMBER
It's named in 1968 after remarkable Polish king –  Casimir III the Great. There is also king's salt statue inside being its central point. Additionally, you will see an original, historical transportation machine from XVIII century.
PIESKOWA SKALA CHAMBER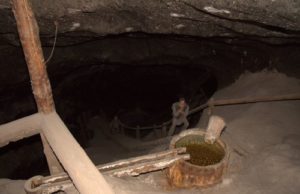 Created in 1669, this beautiful chamber connects two levels of the of the mine. We'll find here many interesting tools and machines with historical values. It includes transportation tools, original stairs made of salt rock, gutters or reconstructed pump. In addition, Pieskowa Skala chamber it's a home for 3 dwarfs, made by a miner-sculptor in the begging of the XX century.
KUNEGUNDA CHAMBER
It was created around 1829 being a connector between Casimir III the Great Chamber and the higher level. Most importantly, it features most beautiful stalagmites and stalactites of the Wieliczka salt mine. While walking around Kunegunda station, you'll meet its many small residents – small dwarfs representing working miners.
WESSEL CHAMBER
This chamber serves as a sanatorium of the mine. In fact, mine climate is in extremely beneficial for those who suffer from respiratory diseases and various allergies. That's why in 1997 the Centre of Rehabilitation and Healthcare was opened in Wessel Chamber. Thanks to mine's air, high in sodium chloride, calcium and magnesium, many people recovered from their civilizational afflictions.
THE HOLY CROSS CHAPEL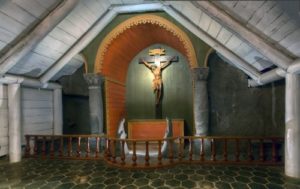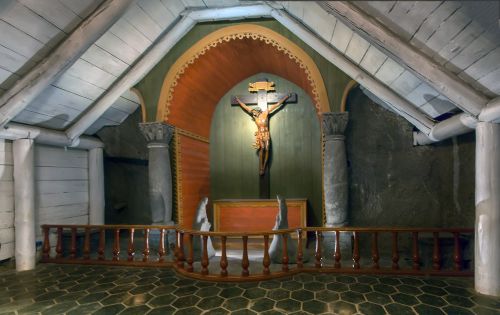 It's an example of a "moving chapel", from where miners could move their tools into different places in the mine. One can find there impressive wooden figures from XVII century as well as  sculptures of crucified Christ, Mother Mary and Monks. Although the figures lost a lot of details in the course of history, they are still very impressive.
SAINT KINGA CHAMBER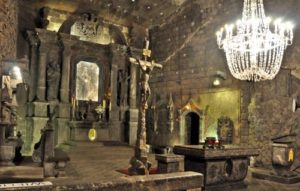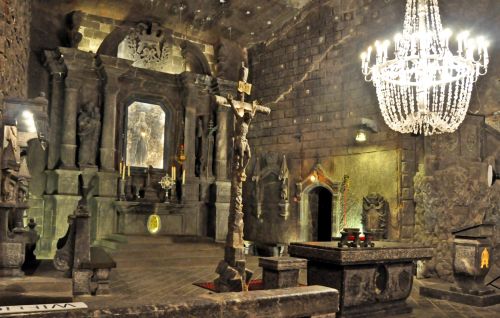 Regarded as the most beautiful place in the mine, St. Kinga Chapel is usually the main photo of  all Wieliczka salt mine Krakow tours. This impressive underground temple is 54 meters-long, 18 meters-wide and 12-meters-high. Its interior, located 101 underground, is simply astonishing – its chandeliers, reliefs and , sculptures made of salt are breathtaking. What's more, the chapel is a place of ceremonial events (weddings, anniversaries) as well as concerts. It's due to its perfect acoustics that attracted even Nigel Kennedy!
WEIMAR CHAMBER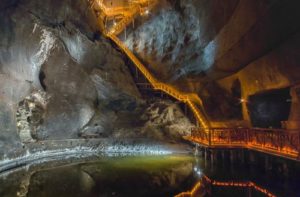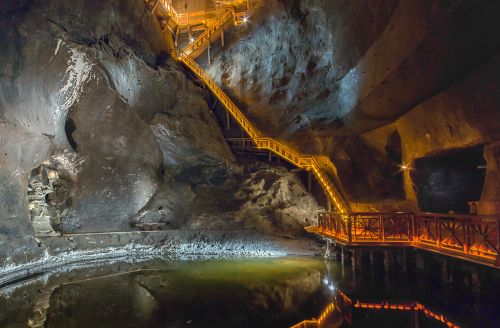 Its name come from the birthplace of J. W. Goethe, who visited the mine himself. That's why we can see his sculpture at the entrance to Wiemar Chamber. Another sculpture in the mine is a figure of the Collector – the good spirit of the mine, which was exhibited during Expo 2000 in Hanover. Additionally, in the 60's of XX century the chamber was filled with brine and observational bridge was created.
MICHALOWICE CHAMBER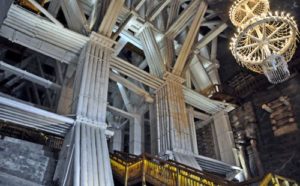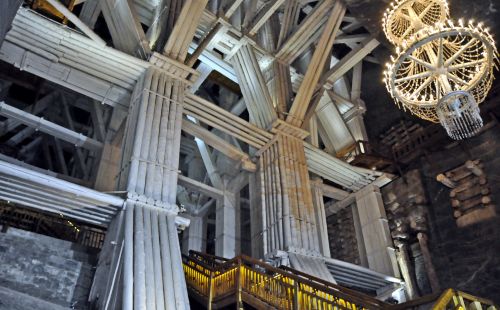 This chamber 35 meters-high chamber was exploited for nearly 100 years. Due to its sizes, miners had to build special securities including box cribs and salt bricks walls. In addition, in 70's of the XX century, two bunch pillars were created making architecture of the chamber to be most unconventional.
DROZDZOWICE CHAMBER
This chamber from the turn of XVII century is also quite impressive due to its size. It was secured by a box crib and special construction. Nowadays, Drozdzowice Chamber hosts many exhibitions, concerts and banquets.
STANISLAW STASZIC CHAMBER
Its the highest chamber in the mine (50 m) from the XX century. During the World War II period, it was supposed to serve as Hitler's planes construction hall. Fortunately, Germans backed out from this idea and the chamber was named after famous Polish businessman – Stanislaw Staszic.
TREASURY
It's extremely important place in the mine, as it features a monument of the most significant figure for Salt Mine. A Treasurer is regarded as mine's ruler and main guard for all miners. He was supposed to warn mine's workers in case of any danger.
BUDRYK CHAMBER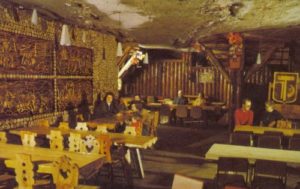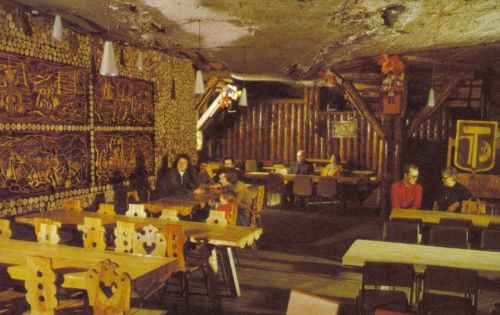 Witold Budryk was a prominent professor of  AGH University of Science and Technology in Krakow. He was a specialist in the field of ventilation and fire protection. 
WARSAW CHAMBER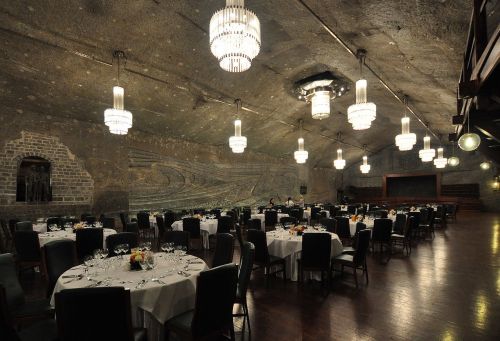 As it's very spacious chamber it's devoted for entertainment! It means that numerous events including tournaments, concerts and balls takes place in there. It was created at the beginning of the XX century. The main statue in the chamber is a grand salt monument of miners.
VISTULA CHAMBER
Since the 60's, Vistula Chamber constitutes a room for relax after salt mine tour for tourist. One can find there benches, changing rooms for those who attend different events happening in Warsaw Chamber. Additionally, there  are some salty souvenirs available for tourists! It's also a meeting point for those returning from their underground tour.
---
---
How do you get from Krakow to salt mine?
There are several ways to get from Krakow to Wieliczka . You can chose either bus, train or private transfer. Undoubtedly, the last option is the most convenient and quickest.
Buses from Krakow to salt mine in Wieliczka
There are few different transporters departing from Krakow Main Station. However, you can get into bus from other stop than main station. The ticket usually costs around 15 PLN and the ride takes about 30 minutes.
Trains from Krakow to salt mine in Wieliczka
There are even more trains departing from Krakow Main Station. You can take a train practically every 30 minutes Time of the drive depends on the train – sometimes it's 20 minutes, sometimes even 40.
Private tours from Krakow to Wieliczka
Private tours from Krakow to Wieliczka are most common options choose by visitors from around the world. No wonder why. By choosing Krakow Salt Mine tour you get the full package of ticket, transport, private guide, and English-speaking driver's assistance. You can also get some special discount or combined your tour with other landmarks as Schindler's Factory or Auschwitz Birkenau. The drive during private tour lasts for about 20 minutes each way.
How far is Wieliczka Salt Mine from Krakow?
Salt Mine in Wieliczka lays only 17 km from Krakow city centre. Krakow is the most popular city to chose as a starting point for Wieliczka tours.
How far is Wieliczka from Auschwitz?
Salt Mines Wieliczka lays about 80 km from Auschwitz-Birkenau Memorial and Museum. During combined tours to Wieliczka and Auschwitz you'll visit both landmarks in one day.
---
---
Learn more about Wieliczka Salt Mine
Wieliczka salt mine – UNESCO world heritage
No wonder that this unique museum is listed as a UNESCO World Heritage Site since 1978. It's also a Historic Monument of Poland. What's more, in 2007 Wieliczka salt mine was acknowledged as one of the 7 miracles of Poland.
Are the salt mines in Krakow worth visiting?
It's not difficult question to answer – of course it's worth! People who decided to visit Wieliczka are usually amazed. Of course, everybody have some different preferences, but in this case the answers is one. It's worth to visit  Wieliczka with family, friends, kids, grandparents, lovers or by your own. It's worth to visit it at any time of the year. Also, it's worth to visit it if you're a history lover, thrill seeker or couch potato. In other words, it's always worth to visit it!
How Old is the salt mine in Poland Wieliczka ?
It's hard to believe but the beginnings of Wieliczka Salt Mine exploitation dates back to the Neolithic period so 3 000 BC! After the World War II archaeologists discovered prehistoric installations used for salt vaporizing. Only as the natural resources where no more sufficient, people begun to dig deeper. Around the XIII century wells turned into first mine shafts and workers turned into miners. All this history makes Wieliczka Salt Mine the oldest company in the whole Europe.
How deep are is Wieliczka salt mine?
Salt Mine in Wieliczka has 9 levels. First is located 64 meters underground while fort the last one is 327 meters! Overall length of all corridors is over 300 km and the whole area covers 7,5 millions cubic meters.
Notable visitors of the Wieliczka Salt Mine
It's hard to appoint the most important visitor of the mine, as there were so many of them. Here are some most notable figures in the long history of the mine.
From Poland: Nicolaus Copernicus, Fryderyk Chopin, Bolesław Prus (famous Polish writer), Ignacy Paderewski, John Paul I.
From around the world: Johann Wolfgang von Goethe, Alexander von Humboldt,Dmitri Mendeleyev, Robert Baden-Powell,  Bill Clinton, Nigel Kennedy.
Useful Tips for Krakow Salt Mine tour
Can I use my camera to salt mine?
In order to use your camera inside Wieliczka Salt Mine you will have to buy a permission (a sticker). It costs 10 PLN and you can buy it already inside the mine. Keep in mind, that light in the mine is very weak so it's better to take camera that can fit into dark conditions.
Is there food in Wieliczka Salt Mine?
There are few places inside the mine, where you can eat something nutritious. You can eanjoy delicious traditional Polish meals inside Mine Tavern, which lays 125 meters underground! Prices are very good starting from 10 PLN for a soup.
Additionally, there are snacks, sandwiches and coffee or water available in underground shops. You'll spend there 15 minutes-break during the tour.
What are Salt mine's opening hours?
Tourist Route  in Mine is available everyday from 8:00 am till 5:00 pm.
Miner's Route  is available everyday from 8:00 am till 3:00 pm.
What's the temperature inside Salt Mine?
The temperature inside salt mine hovers between 12 and 15 Celsius degrees. If it's summer, it often happens that visitors find themselves trembling from cold! That's why it's better to take a jumper or a coat.
Is it safe to go on Wieliczka Salt Mine Krakow tour?
The mine is visited by almost 2 million visitors each year and the number is expected to grow. Still, there are no dangerous cases in the history of its touristic activity. As Wieliczka is getting more and more popular it developed modern technologies to make sure that each visitor and worker is safe. That is to say that you don't need to be afraid to go on Wieliczka salt mine Krakow tours at all.
The only thing you need to keep in mind is that the tour features a lot of stairs and slippery paths. However, if you stay sharp and follow your guide, everything will be fine!
How long is the tour of the salt mine in Krakow?
Tour usually last for about 3 hours. It starts with a ride by historical mine lift (miners shaft) and then continues underground. During the tour, you'll also have a 15 minutes break for toilet, snacks and souvenirs.
---
---
Salt Mines Poland – are there more?
If it's about Wieliczka salt mine trips, they are undoubtedly number one among all trips from Krakow. However, there are more such valuable places in Poland worth visiting. Although not so famous, they still have much to offer to their visitors!
Is Bochnia Salt mine the new competitor for Wieliczka?
Few people knows, but salt mine in Bochnia is older than Wieliczka. It's 3 500 years old being the oldest salt mine in Europe. Not only its is national monument of history but also one of the UNESCO world heritages. Additionally, it is still active mine. There are different types of routes available in Bochnia salt mine: tourist route, historic route and natural track, each with English guide.
City of Bochnia lays 40 km from Krakow which makes it popular destination for Krakow tourists. Is Bochnia a new competitor for Wieliczka salt mine tours? Who knows, visit it ans find out which one is better!

---