According to a legend, polish dumplings appeared in Poland in XIII century. It was due to a Dominican friar, who was delighted by its amazing taste in Russia. In fact, that's how the most popular specialty in Polish cuisine has began its international career. So, what type of pierogi are you favourite?
---
Festival of pierogi Krakow
For 4 days (14-18.08) we'll have a chance to experience an amazing festival of traditional polish pierogi! Small Square in Krakow will fill up with exhibitors from the whole country. They'll present their home-cooked pierogi and will fight for the first prize in a contest. What;s more, the best part is that everyone is welcome to try it! All kinds of delicious dumplings will 
Be prepared for baked, boiled and friend pierogi with variety of fillings. Traditional polish dumplings such us potato and cheese as well as more contemporary ones such as spinach or lentils. So, you'd better be hungry before arriving to polish pierogi festival!
In addition, there will be musical frame provided by Buskers Band, Music of the End of Summer and Hard times. 
---
Best polish dumplings in Krakow
Kalejdoskop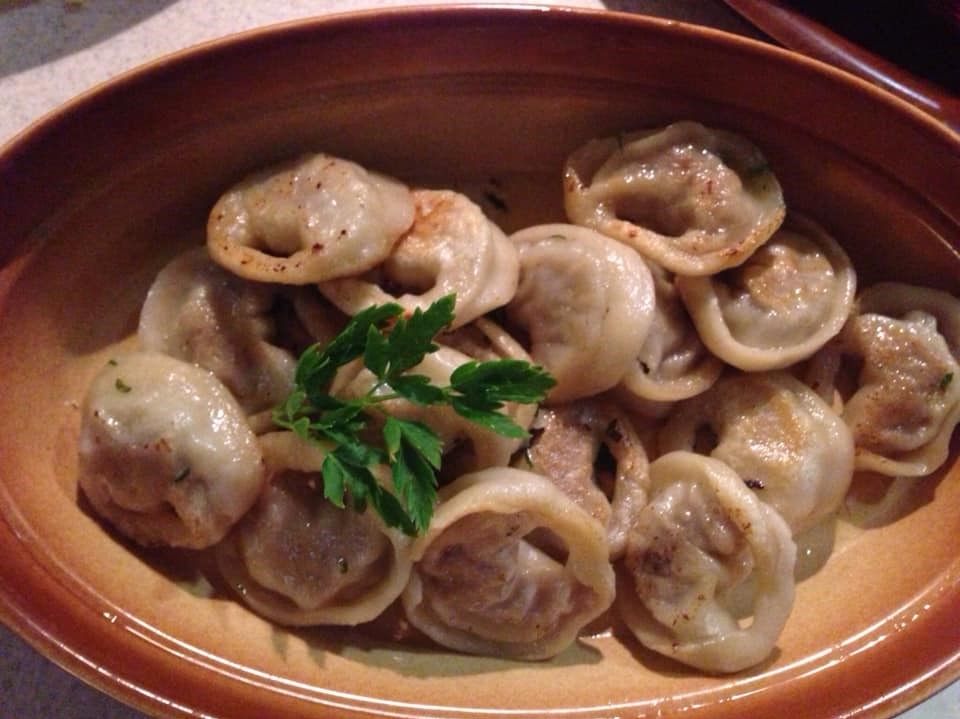 The place is famous for incredibly thin and delicate dough. It simply melts in your mouth. Pierogi are made just before serving so you need to wait about 15 minutes, but it's definitely worth it. You'll find there very traditional fillings such as pure potato served with sour cream and onion. 
Cherry Orchad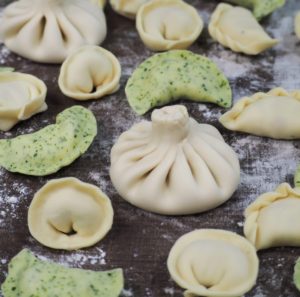 Russian restaurant with an original interior including old style carpets. It serves probably the best Russian pierogi in town. Their dumplings have incredibly delicate pastry, perfectly sour cream and a lot of onion inside. Due to it's localisation in the very center of the Old Town, it can't complain for lack of clients…
Wola Tavern
It's a perfect place for family lunch, serving the best classics of XX-century Polish cuisine. It includes potato, cabbage, meat and fruit dumplings. You'll for sure enjoy be its 100 % natural flavor, fresh, delicious dough and perfectly spiced fillings.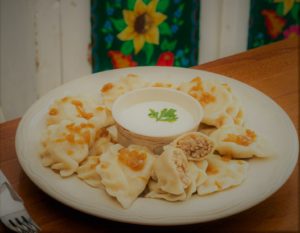 Tbilisuri
Their dumplings are simply delicious – not only those traditional polish dumplings. You'll find there pierogi from around the world – Russian, pielmieni, chinkali, warenik with different fillings and shapes. Everyone will find something for themselves!
 Krakowiacy
One of restaurant's features is its traditional decor, that brings an amazing atmosphere of Polish folklore. Old Polish recipes guarantee uniqueness of polish dumplings taste. Natural, healthy and home-cooked – don't miss the chance to try it out.
---
---
Polish pierogi recipe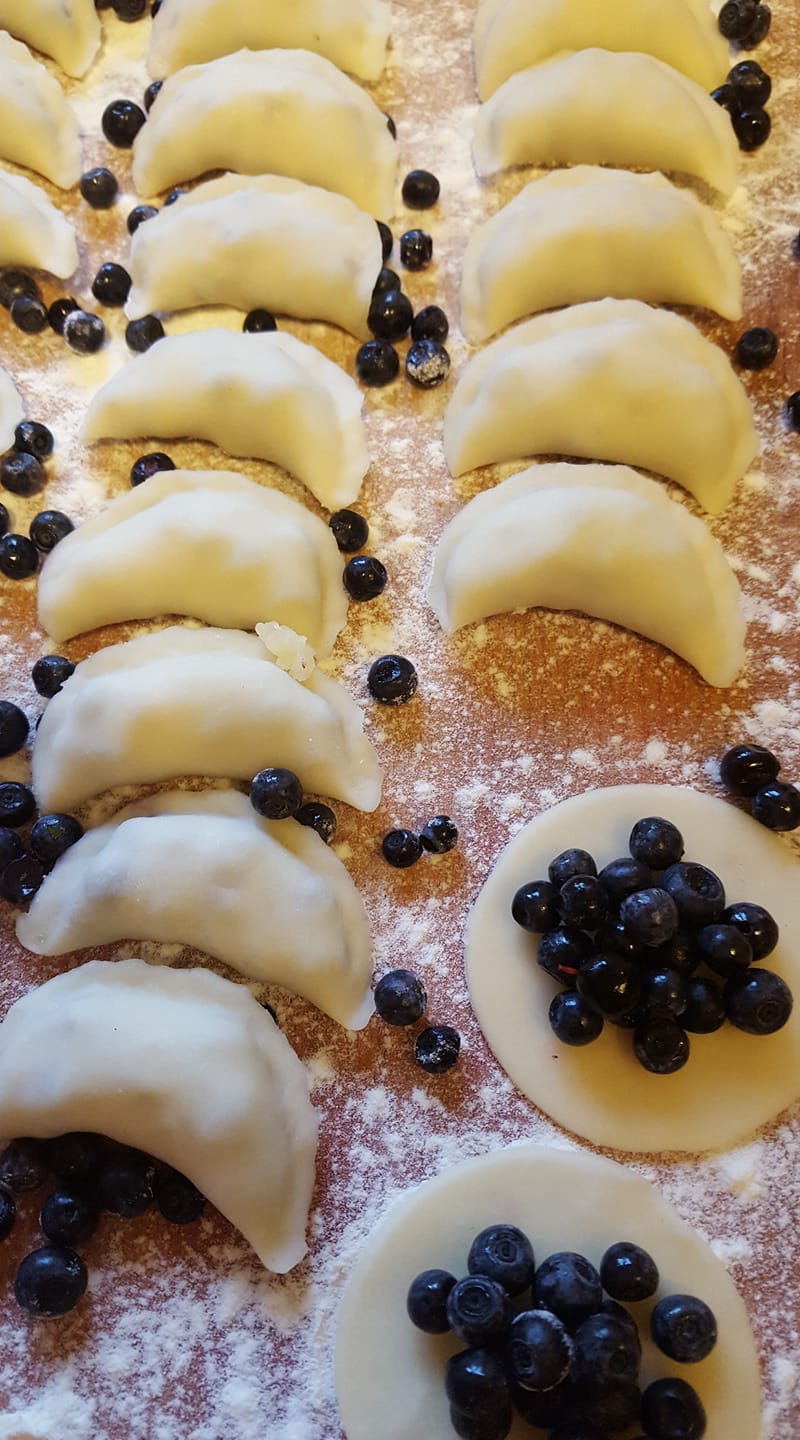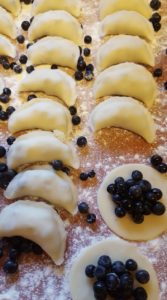 Would you like to know how to make polish pierogi? It's not that hard! All you need are favorite ingredients, some time and good company.
To make the dough you'll need:
flour

water

1 egg (not necessary)
Simply MIX the ingredients, ROLL it flat and CUT it into circles using a glass. Then comes the best part – filling. You can FILL it with your favorite flavors which can be smashed potatoes with white cheese and onion or cabbage with mushrooms and cumin. Don't forget to ADD spices! Use your imagination and make your unique pierogi with anything you like.
The last step is to fold the dough and form  a half-circle with thin edges. Place pierogi into an oven or boiling water. After 15 minutes your own dumplings are ready!
---
Types of traditional polish pierogi
What are the most traditional dumplings in Poland? Although  restaurants around the country serve various types of dumplings from around the world, the traditional ones are still number one in many menus. During your stay in Poland, you absolutely MUST try traditional pierogi with:
potato and white cheese,

cabbage and mushrooms,

cabbage and meat,

sheep's cheese,

buckwheat groats,

fruits (strawberries, cherries, raspberries, blueberries),

sweet white cheese.
---
---
Go on traditional Polish tour
We offer you an amazing tour to a village outside Krakow (around 1 hour ride). During Folkshow tour with Krakow Direct, you'll have a chance to try the best traditional cuisine including delicious Polish pierogi. The dinner will take place in a cottage house, around climatic wooden table. Additionally, you'll experience an amazing folk show after the dinner.