Are you spending New Year's Eve in Krakow? Would you like to celebrate this last day of the year in atypical way? We have a few ideas, which are more than just party in the club. Unique places, unique attractions… And opportunity to meet amazing people. One night which you probably won't forget. There are many clubs in Krakow, where you can dance and try popular drinks. But what about original ideas how to spend this night?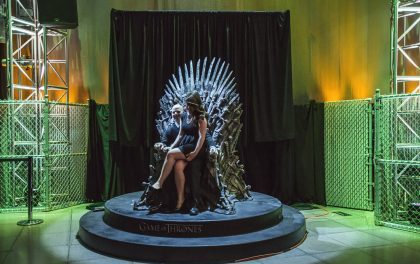 Firstly- Games of Thrones Party. A real treat for fans of Daenerys Stormborn of the House Targaryen and Tyrion Lannister. It will be unique opportunity to sit on the Iron Throne (only for chosen ones!). Expect dressed waiters, and dishes characteristic for George R.R. Martin's books. Sansa's lemon cakes or Greys' fish soup with seafood are just examples! Hosts promised that no heads will be cut this night. Don't miss such a feast! Cudawianki are waiting for all daredevils.
Alternative for clubs in Krakow during New Year's night
Secondly- underground ball in salt chambers. Royal ballroom, delicious cuisine, and beautiful salty chambers… They are simply unforgetable. Maybe there will be no fireworks, but there is no time for boredom eighter. Elegant receptions in Wieliczka Salt Mine or in Bochnia are famous in all Malopolska. People say if you visit Wieliczka Salt Mine, you simply fall in love.
Another option to feel like a king is… New Year's Eve in the royal castle in Niepolomice. In the suburbs of Krakow you have opportunity to enter Middle Ages for one night. Reconstruction group will greet you in the gates.They will organize knights' tournament in the courtyard. Ladies will lead traditional polonaise. And medieval live music will sweeten this night. Guests will also watch performance of Theater of Fire. And in the midnight they will watch impressive fireworks.
What is more, non- drinkers will find interesting alternative. Tantric New Year's Eve in Krakow is a relaxing option in friendly atmosphere. It's the time to discover mysterious power of shamanic rituals and tantric energy. Get rid of stress and negative emotions! Harmonia Istnienia invites you to calm down, relax and simply feel happy. All in all, who doesn't like massages?
As you can see, there are many different ways how to New Year's Eve in Krakow. You can spend this special night with massage, in the swimming pool, drinking popular drinks in clubs in Krakow or take some fancy clothes and pretend a creature from the movie…