In the beginning of May appear three important holidays in Poland. 1st May-Labor Day and International Workers' Day. May 2 –Flag Day, and  May 3-Constitution Day. It's a time to remind ourselves turbulent polish history. If you visit Krakow in this time, expect crowds in the streets, especially on May 3rd. It's one of the most festive national holidays in Poland.  Mass with cardinal, procession, orchestras, military parade with Mounted Cavalry…
National holidays in Poland- interesting facts
Did you know, that first constitution in Europe was adopted in Poland? In 1791 Polish–Lithuanian Union became constitutional monarchy. In contrast to absolute monarchies in neighborhood countries. It was really progressive document for this time. No wonder that it became pride of polish people. After loosing independence, constitution stayed in minds of conquered people.  They remembered ,,good old times", when their laws were enshrined in the constitution. Nazi and soviets outlawed celebration of Constitution Day. Due to that fact it's even more important those days.
Nowadays it's an important part of manifesting freedom and  independence. This day between 10.30 – 14.30 runs Patriotic Tram. Youngsters invite everyone to sing patriotic songs in it. What is more, on the Small Market ( Maly Rynek) one can join the 60th Lesson of Singing. Participants of the event will receive 4 thousand free song books with patriotic songs.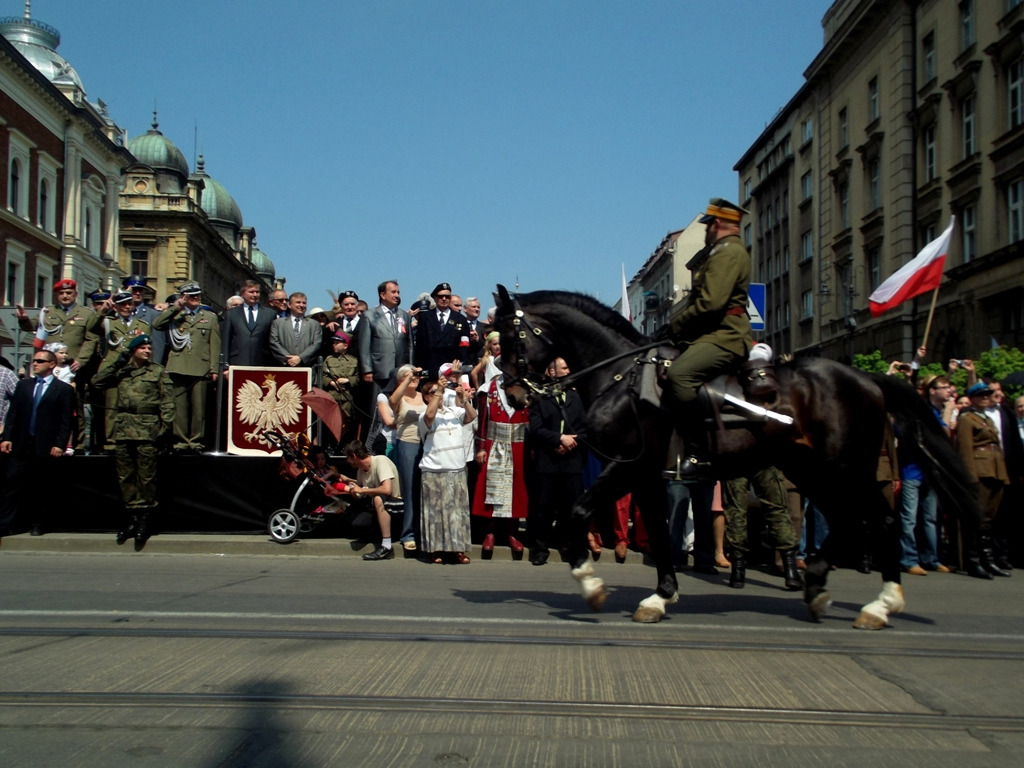 Majowka in Krakow- what to expect?
Although Flag Day is a working day, since it's between two holidays, it seems to be as important as those two. Consequently, many people take a day off and celebrate this three days in different ways. It becomes more and more popular to wear white and red rosette ( colors of polish flags). It's a time to manifest your patriotism. Furthermore, it reminds moving history of polish insurgents.
Main Square will be the heart of events. On the walls of Town Hall Tower will hang a giant white-and-red flag. What is more, at her feet will arise patriotic town. It's opportunity to try 50-pound white and red cake. Active holidaymakers will be able to take part in the family cycling. The route is approximately 10 km,  and participants are wearing clothes with national colors.
Majowka is a term to call this three holidays. For some people it's a time of manifesting. For others- longer weekend, perfect for city break. Anyway, for visitors it's an opportunity to learn more about polish history, culture and society. Remember that most of shops, museums and restaurants are closed 1st and 3rd of May. Most noteworthy, it reminds about regaining freedom. So, will you decide to participate in celebrations?