Judah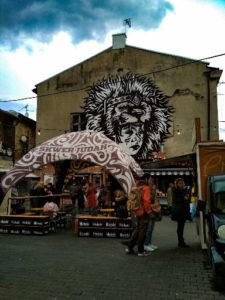 On the one hand this mural refers to the logo of Jewish Culture Festival in Krakow – one of the most important Jewish festivals in the world. On the other hand, it's a symbol of weak and suffering nation (little boy) that has been fighting for their rights (lion hat). A place, where it is located, is named after the mural – the Judah Square. It's also most popular food truck spot in Kazimierz district.
Dragon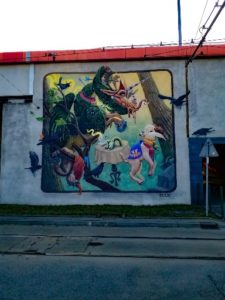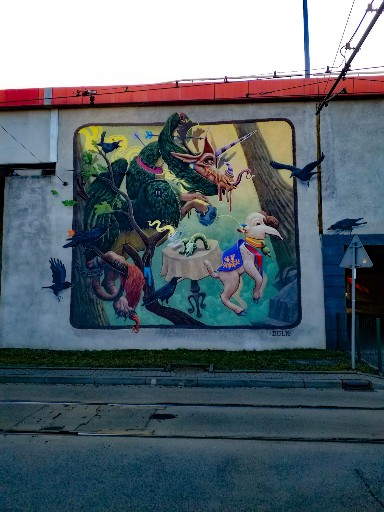 This intriguing mural is an artistic interpretation of famous Krakow legend about Wawel Dragon. Known Spanish artist called Dulk came to the the city to take part in '101 murals for Krakow' project. He has created amazing painting and at the same time gingered up a grey area of Rondo Mogilskie. You can see it right next to a tunnel leading to the main station in Krakow Shopping Mall.
The Robots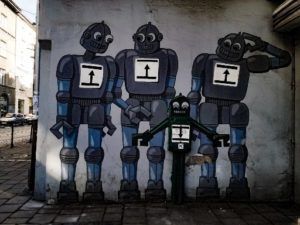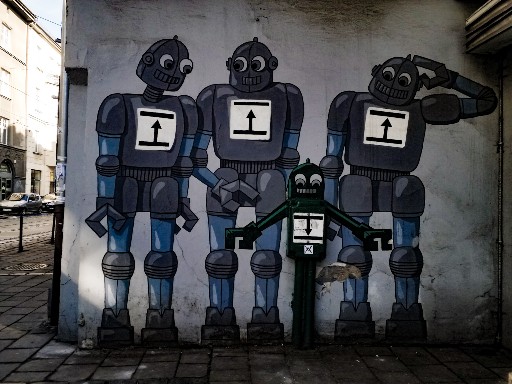 It's little, but extremely charming. Mural called the Robots has been designed Małgorzata Rybak on Zwierzyniecka street. She changed a small, neglected wall into a lovely painting that brightens up a day of each passerby. The most characteristic thing about this work is that artist has incorporated wall's existing elements into the mural.
Lwowska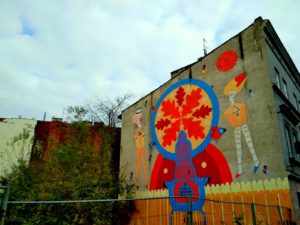 Mural on Lwowska street has been designed as a symbol of Podgórze District. It consists of many elements important for Podgorze residents – Krakus Mound, symbols of old tradition Rekawka, element from old synagogue, two ghosts – of animated and inanimate nature. It is certainly the most colourful spot in the area.
Mayamural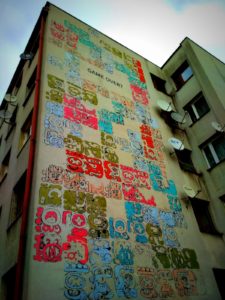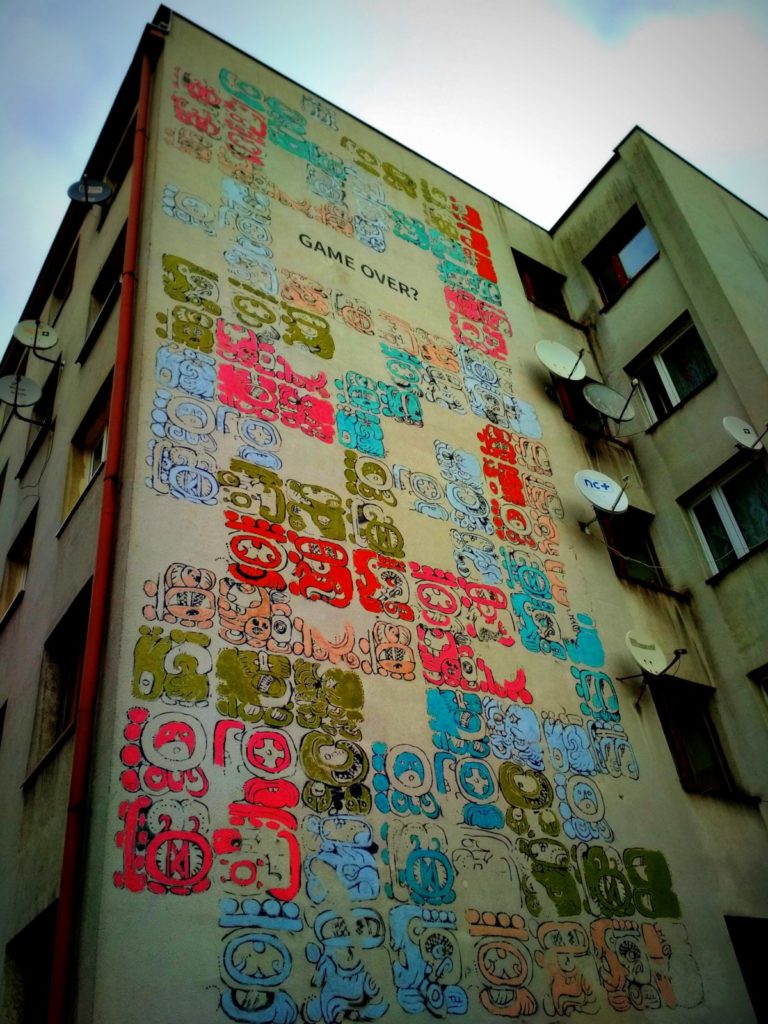 An inspiration for Mayamural was Tortuguero inscription – a prophecy of end of the world. In fact, the mural had been created in December 2012, just few days before the Doomsday. As Mayan prophecy fortunately has not fulfilled, we can admire this unique work till today.
Rainbow stairs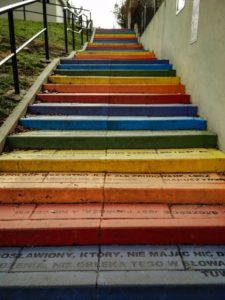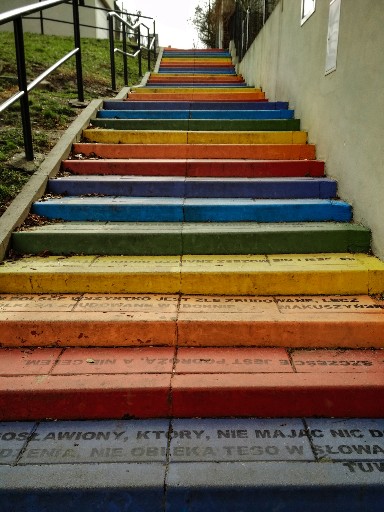 Although it's not easy to find this small, hidden alley, it's definitely worth to look for it. 55 colorful steps will catch everyone's attention and when you see it, you immediately feel a desire to climb them and check what's up! Only when you get closer to the start, you'll see that beside different color, each step has a quote of significant figure including Gandhi, Marquez but also characters from fairy tales.
Nowa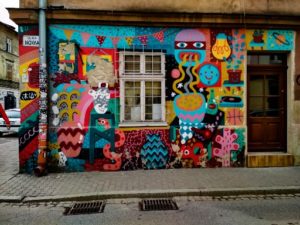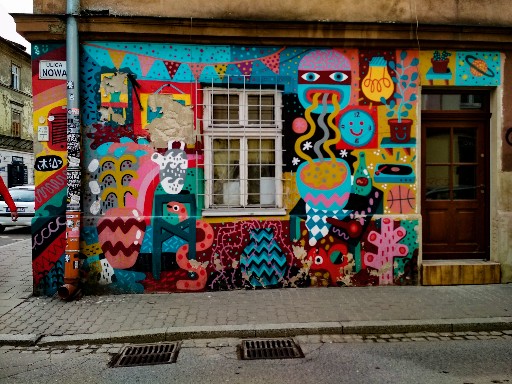 It's incredibly colorful, vivid, bright and vital. Famous mural in Kazimierz has graced one of gray tenement houses and it has become a part and parcel of this Krakow district. It depicts some kind of interior of a room with table, cup of tea and…red cactus. However, it's interpretation is individual for each passerby.
Corner of Nowa and Józefa 
I'm happy again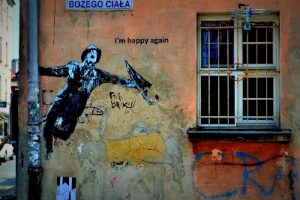 Just round the corner you'll meet with Gene Kelly. He is happily dancing around a gutter and takes us back to the cult movie "Singing in the rain". However, 'I'm happy again' slogan is not only to rise people's spirits. It is also a symbol of Krakow citizens recovering from the horrors of the WWII and Communist occupation.
Corner of Meleisa and Bożego Ciala 
Wyspiański mosaic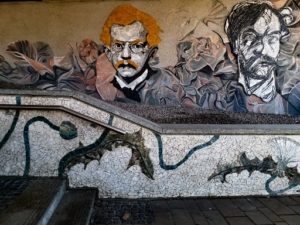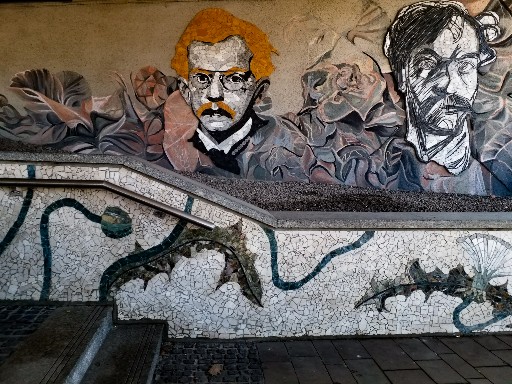 Stanisław Wyspiański was extremely important Polish painter, poet, furniture designer and playwright. He was also an excellent stained glass painter and his works were an inspiration for the mosaic at Rondo Mogilskie. It's the biggest stone mosaic in Poland created in the shortest time and by the biggest number of participants.