If you hear about Krakow concentration camp, probably the first idea would be Auschwitz Birkenau. Indeed, it was the biggest Nazi Death Camp in Poland, around 70 km from Krakow. However, many Polish and Jews prisoners were located in Krakow concentration camp in Plaszow (in Podgorze, which is one of Krakow districts). Those two places are a harsh proof of inhumanity and unimaginable terror.  During occupation times in Poland, German brought their horrifying doctrine- Nazism to Polish country. According to their ideology, Aryans were "the better" type of people who had a perfect right to discriminate Jews. They moved all the Jews to bigger cities and put them into ghettos. They were forced to do an exhausting job and they didn't get any salary, only small food portions. Those, who were diagnosed as not able to work, were sent directly to Auschwitz Birkenau concentration camp, where they were executed.
 Concentration camp tour – discover the story of Auschwitz
If you book Krakow concentration camp tour, you have to prepare for it. You'll see places, where prisoners were working and living,  places of their execution and massive graves. According to the official data, over 1,1 million people died in Asuchwitz concentration camp. It's worth to mention, that as the Red Army was getting closer, Nazis wanted to hide their crimes. They tried to blast Auschwitz and Krakow concentration camp as well. However, they didn't managed to destroy all the evidences. Many original buildings and objects remained till today.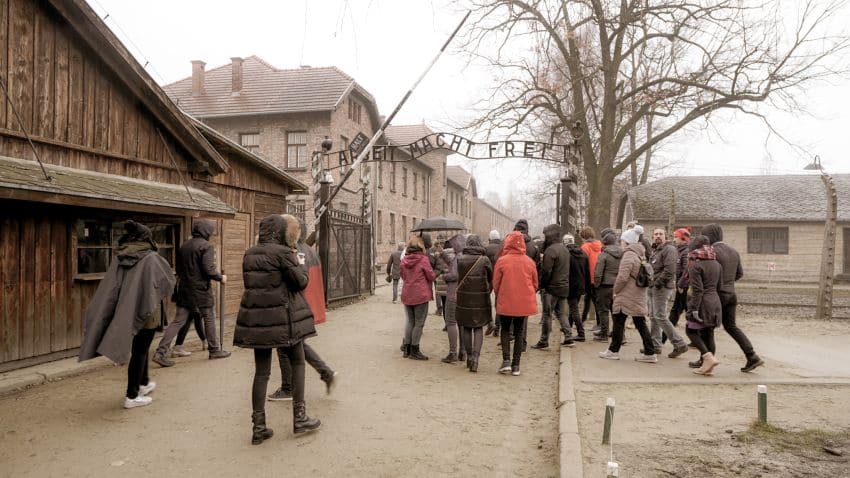 Unlike in Auschwitz-Birkenau, there are not many remained objects from Krakow concentration camp in Plaszow. It was created in 1942 as a labor camp and then, was turned into a concentration camp in 1944. As the Krakow ghetto was liquidated, many people were sent to Krakow concentration camp in Plaszow. At that time, mass executions intensified and they were usually conducted upon a hill called "Hujowa Gorka". The cross twined with barbered wire, that stands on that spot today, is a symbol of the cruel death of thousands of innocent people.
Krakow concentration camp was built on premises of two Jewish cemeteries, but soon it covered an area of 80 ha. It is estimated that around 150 thousands of people were in the camp during its existence.
Check our different options of concentration Camp tour to see the place of holocaust – a symbol of dehumanization and terror.
Visiting Krakow concentration camp
Beside the cross with barbed wire, there is also a quarry, where plenty of inmates were working in inhuman conditions. What's more, there's an impressive monument (the monument of people with extracted hearts) that stands on the outskirts of Krakow concentration camp. Another remained object – the villa of concentration camp Krakow commander, stands on Heltmana 22 street. This commander (Anon Goth) was shooting Jews from his villa's terrace, just for fun. However, after the war, the commander of Krakow concentration camp has been captured. Then he was sent back to Poland and sentenced to death.
 Krakow concentration camp tour and Schindler's Factory
If you decide to go on Krakow concentration camp tour, you should also consider visiting the Schindler's Factory. Famous Spielberg's movie (Schindler's List) is in fact closely related to Plaszow. Thanks to the movie, many people decided to book Krakow concentration camp tour. It's a great experience to see original places of movie's plot.
Schindler was a German investor, who hired more than a thousand Jews in his factory. He did it as they were cheaper workers than Poles. Although he sympathized with Nazis, soon he changed his priorities. Schindler started to protect his workers. Thanks to his effort, 1100 Jews (his workers) were located in camp barracks, next to the enamel factory. His argument was that rested workers give the best effort. What's more, he couldn't loose his skilled and qualified people. Afterwards, he created the famous list and managed to save them from sending to Krakow concentration camp. At the same time, he saved their lives and became areal hero.
Schindler's Factory is also a place, where you can feel the atmosphere of the old time Krakow. Numerous interactive exhibitions will take to incredible journey through the city streets.
Concentration Camp Krakow and Schindler's Factory  in Podgorze
Are you interested in II WW history and Holocaust issue? Would you like to pay tribute for those, who died in Auschwitz II Birkenau? How about discovering an amazing story of famous Oskar Schindler? Concentration camp tour is just perfect idea to do all of these things. You can easily book a private transfer to Auschwitz concentration camp or Schindler's Factory with Krakow Direct. It's possible to join a group tour or plan your own trip in a private car. 
Check out our offers here: